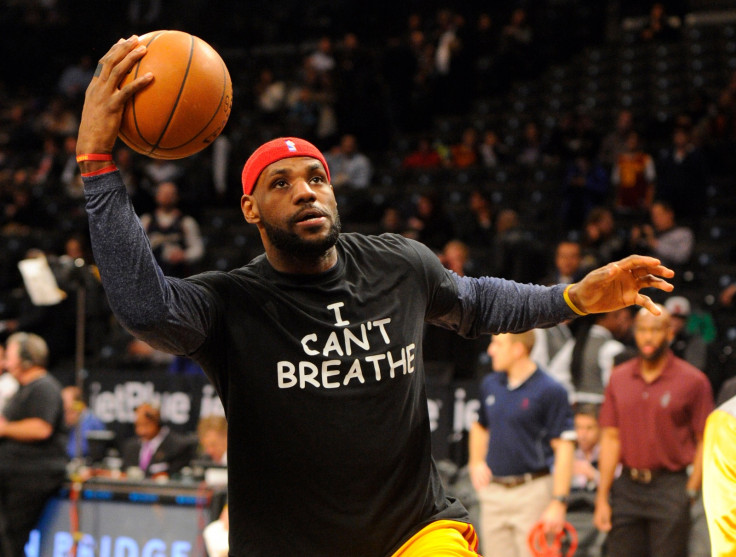 Several US basketball stars have thrown their weight behind nationwide demonstrations over the police's perceived excessive use of force against African-Americans.
NBA icon LeBron James and his Cleveland Cavaliers teammate Kyrie Irving were among players who donned a protest t-shirt against a grand jury decision not to charge a white police officer over the death of an unarmed black man in New York City.
James and Irving sported black shirts emblazoned with Eric Garner's last cry "I can't breathe" during the warm-up of a match against the in Brooklyn Nets at the Barclays Center in New York.
Some Nets players, including veteran centre Kevin Garnett and Deron Williams did the same.
Garner, a 43-year-old suspected untaxed cigarettes seller, suffered a heart attack and died after he was subdued with a banned chokehold by a white police officer, Daniel Pantaleo.
The African American man is heard repeatedly telling arresting officers he can't breathe in a video of the incident which went viral online.
Earlier this month a grand jury decided not to indict Pantaleo over the incident, triggering large protests that continued this week.
The verdict came a few days after another controversial ruling, this time by a grand jury in Ferguson, Missouri, that decided against charging police officer Darren Wilson for the death of unarmed black teenager, Michael Brown, had sparked unrest and demonstrations.
The fatal police shooting of 34-year-old Rumain Brisbon, a black man suspected of selling drugs in Phoenix, Arizona, and 12-year-old Tamir Rice, in Cleveland, Ohio, have also sent people to the streets.
The Brooklyn game ended 110-88 for the Cavaliers, under the eyes Britain's Prince William and his wife, Kate, who took courtside seats to watch the show during their official visit to the US.