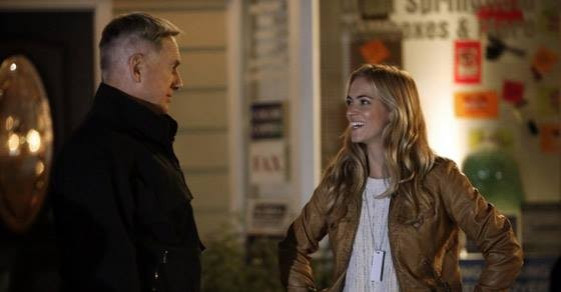 It has been two weeks since the last NCIS episode "Gut Check" aired. Episode 10 of season 11, "Devil's Triad", marks the return of the CBS crime drama with one more episode to follow before the show goes for a midseason break.
NCIS Season 11 'Devil's Triad' Spoilers:
Here is a brief look into the plot as per an Entertainment Weekly report: The episode kicks off when a marine is murdered by a clown and Gibbs and the team trace the victim's calls to a hotel room. But it is the familiar faces inside that hotel room that turn out to be the real surprise: Diane and Fornell almost get caught in the act. But if they were in the room all night, who had made the call to the victim's cell?
Ellie Bishop, the new addition to the NCIS family (and not Ziva David's replacement as clarified earlier by show-runner Gary Glasberg) gets her second episode of the story which is mostly about a murder-turned-kidnapping case that brought a couple of twists, as reported in Cartermatt.com
Gibbs' ex-wife Diane features in the episode. There was a nice moment between her and Gibbs towards the end, though it didn't really help to understand why Mark Harmon's character ever married her in the first place.
Emily Wickersham as Bishop seems to be doing a great job of playing the character. But, the only problem that comes along with her being a new face is that the producers are inclined to show a lot of her. The balance is going to understandably be a little shaky in that time frame, since you have to see how she responds to everyone else and adapts herself into the group.
NCIS Season 11 'Homesick' Preview
Watch the sneak peek of upcoming NCIS episode, Homesick:
The episode looks to be an extremely emotional one. It features Vance getting a "surprise visitor" who he does not have the best relationship with. While Vance is dealing with his family crisis, there is a very different sort of situation that will be unfolding for Pauley Perrette's Abby back at the lab, reports CarterMatt.
But what is probably more important is that the major focus of this story is going to be all around things that can be best defined as a part of the "holiday spirit," whether you are talking about love, forgiveness, peace, and understanding.
In addition to this being the official holiday episode for the show this year, it is also going to serve as the midseason finale.