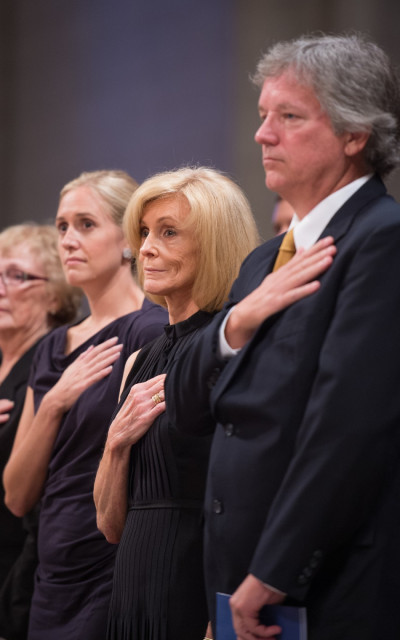 The remains of Neil Armstrong, the first person to walk on the Moon, have been scattered in the Atlantic Ocean.
The ashes of the "reluctant" icon of the 1960s space race were transported on the US Navy's guided missile cruiser USS Philippine Sea.
Armstrong, who served in the navy from 1949 to 1952, was honoured with a bugler and a rifle salute before his remains were scattered on the ocean.
The ceremony was attended by Armstrong's Apollo 11 crewmates Michael Collins and Buzz Aldrin, Eugene A Cernan, the Apollo 17 mission commander and the last man to walk on the moon, and John Glenn, the former senator and the first American to orbit the Earth.
Extracts from a speech given 50 years ago by then US president John F Kennedy were read out. America chose to send man to the Moon not because it was easy, but because it was hard, Kennedy had said.
"Neil will always be remembered for taking humankind's first small step on another world," said Bolden. "But it was the courage, grace and humility he displayed throughout his life that lifted him above the stars."
He said Armstrong has not only left his footprints on the Moon but also paved the way for future American explorers to be the first to step on Mars or another planet.
"You have now shown once again the pathway to the stars," the Washington Post quoted Eugene Cernan, Apollo 17 mission commander, as saying. "As you soar through the heavens beyond even where eagles dare to go, you can now finally put out your hand and touch the face of God."
Earlier, hundreds of people gathered at Washington's National Cathedral to pay tribute to Armstrong, who died on 25 August 2012 from complications after cardiac surgery.
Watch the video, or click Start for a slideshow of the Armstrong memorial service: