Deadly Online Craze 'Neknomination' Blamed for Second Irish Death in a Week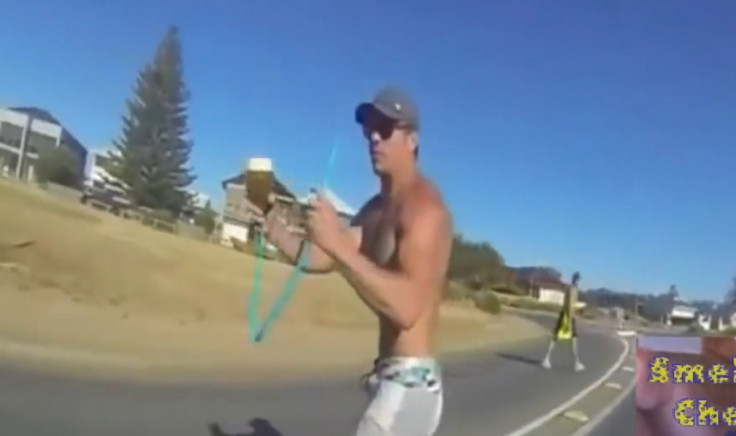 A 19-year-old man from the Republic of Ireland has apparently become the latest victim of a viral online drinking game known as "Neknomination". Jonny Byrne, from Leighlinbridge, Co Carlow, plunged into a swollen river near Milford Bridge. His body was later pulled from the water.
Irish police (Gardai) are investigating claims that the dead man was playing Neknomination, where people video themselves downing alcoholic drinks before nominating others to do the same anywhere in the world.
Before Byrne's body was found, his brother Patrick "Stretch" Byrne posted a message on Facebook warning others to stop playing the game:
"This neck nomination shit HAS TO STOP RIGHT NOW my young 19 year old brother Jonny Byrne from Carlow died tonight in the middle of his nomination. He thought he had to try and beat the competition and after he necked his pint he jumped into the river. After 5 hours of searching he is still not found. If people have any decency and respect they will refrain from any more of this stupid neck nomination shit."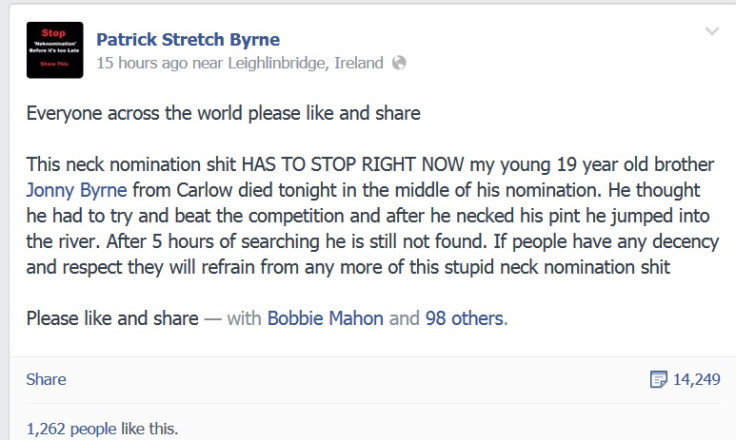 It is believed the game is also responsible for the death of Dublin DJ Ross Cummins who was found dead in the city last week. Cummins had played the game at a house party on Macken Street where his body was found early the next morning. He had apparently been drinking spirits.
"Neknomination" started in Australia and has spread to other countries, including the UK and Ireland. Participants often film themselves doing dangerous stunts – including skateboarding and surfing - while drinking alcohol. In one Facebook video a man bites the head off a dead chicken. In another a man urinates in a beer glass before his friend drinks it.
Other videos posted on YouTube seem to show participants stealing beer from shops before running away and drinking their loot.
© Copyright IBTimes 2023. All rights reserved.