Nelson Mandela: Four Acts of Forgiveness that Showed South Africa Path away from Apartheid
South Africa's first black president set example about healing pain of apartheid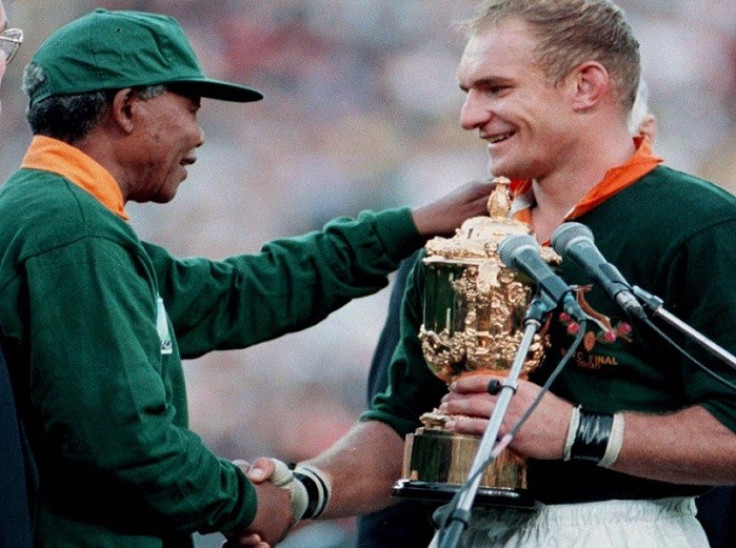 South Africa was in sore need of forgiveness after apartheid and Nelson Mandela gave the perfect lesson in how it could be done.
Having spent 27 years in prison for trying to end white-minority rule through violence, Mandela became an emblem of peace by reconciling with the individuals who had been the instruments of oppression during his captivity.
Leading tributes to Mandela, President Jacob Zuma said that the man known affectionately as Madiba, had been the father of the people: "Our nation has lost its greatest son," he said. "Our people have lost a father."
Following Mandela's death at his home in Johannesburg, here are four acts of forgiveness by South Africa's first black president which pointed the way forward for a divided country to become united.
1. Mandela invites one of his former jailers to a dinner marking the 20<sup>th anniversary of his release from prison.
Christo Brand was a jailer responsible for guarding Nelson Mandela at Robben Island and then at Pollsmoor Prison. Speaking about the relationship which developed between the two men, Mandela said it "reinforced my belief in the essential humanity of even those who had kept me behind bars."
2. Mandela invites his former prison guard to his inauguration ceremony as South Africa president.
Prisoner warder Paul Gregory and Mandela developed a bond during his long captivity, according to the anti-apartheid icon. Gregory's "soothing presence" and "courtesy" marked him out as different to most of his colleagues in Mandela's eyes. On becoming president of South Africa in 1994, he invited Gregory to the inauguration ceremony.
3. Mandela has lunch with the man who tried to have him killed
Percy Yutar was the state prosecutor at the 1963 Rivonia treason trial at which Mandela was convicted of sabotage and sentenced to hard labour for life. Yutar demanded the death penalty for Mandela. In 1995, Mandela invited Yutar to dinner where they enjoyed a kosher meal. Mandela said that Yutar had only been doing his job.
4. Mandela dons the Springbok rugby jersey at the 1995 rugby World Cup final

During the apartheid era, few symbols summed up oppression for Mandela and his ANC colleagues than the hated green Springbok jersey. At home matches, the pens in which black South Africans were made to stand always full of fans cheering the opposition. Meanwhile, the ANC revelled in the international rugby boycott imposed on South Africa.
So Mandela was making a huge statement by wearing a green jersey at the World Cup final in 1995. He presented the trophy to South African captian Francois Pienaar, sending out a strong message to his ANC colleagues that it was time to put aside enmity and become a united country.
READ:
Nelson Mandela: Is South Africa Heading for a Zimbabwe-style Meltdown?
Nelson Mandela: Images of an Icon
Nelson Mandela Dies Aged 95 LIVE REACTION
Nelson Mandela's Body Moved to Pretoria
Nelson Mandela Death Fears: Government Reveals Plan for Memorial Service at Soccer City
© Copyright IBTimes 2023. All rights reserved.