Hours after the news of the death of Nelson Mandela, a number of Twitter users poured scorn on South Africa's first black president by calling him a "terrorist".
The colossus of the anti-apartheid movement died at the age of 95 in his home in Houghton, a suburb of Johannesburg, after a long battle with a recurring lung infection.
Mandela was arrested in 1962 for leading a sabotage campaign against South Africa's racist government. He was eventually freed in 1990 and went on to receive universal acclaim for his work to destroy apartheid.
Despite his totemic status, Mandela was on the US terror list until 2008, a fact that the Bush administration described as "embarrassing" for the US.
In 2006 David Cameron was moved to apologise for former British prime minister Margaret Thatcher's comments that Mandela's African National Congress was a "typical terrorist organisation". Her early antagonism was shared by members of the Federation of Conservative Students - later shut down by Tory hardman Norman Tebbitt in a damage limitation exercise - who were accused of wearing T-shirts and printing posters carrying the slogan, "Hang Nelson Mandela".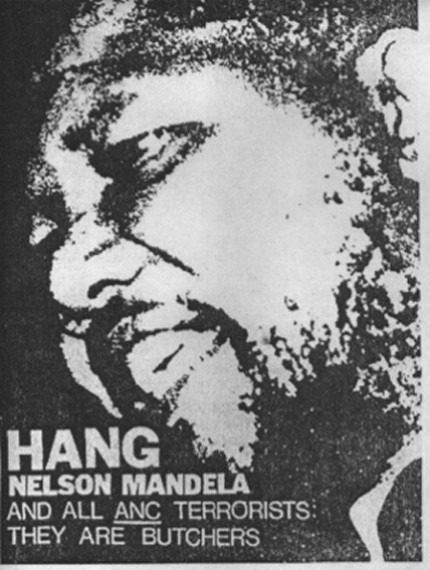 No less than a dozen tweets surfaced in cyberspace shortly after Mandela's death, criticising the man, known to millions as Madiba, for his "terrorist" acts.
"Mandela is dead. Sympathy for his family but let's not deify one who condoned terrorism," wrote Ukip activist Alexandra Swann.
Another Twitter user with the handle @MrAlfieHawkins said: "Why do we condone acts of terror from Nelson Mandela but not from bin Laden, Gadaffi etc?"
Peter Bright said: "I wonder how much the Mandela obits will say about his past as a terrorist."
"Nelson Mandela founded a militant anti-apartheid group and led a bombing campaign against the apartheid government. Just saying," said another Twitter user @perlucidum.
Peter Oborne, chief political commentator of the Daily Telegraph, wrote in a column entitled 'Few human beings can be compared to Jesus Christ. Nelson Mandela was one', condemned the libelling of Mandela by right wingers:
"The Conservative Party also has a confession to make. For too many years it failed to understand Mandela and what he stood for. British Conservatives, if they are honest, have no choice but to admit that some of them were terribly wrong about South Africa. Some of them still refuse, privately, to admit it.
It was easy, but facile, to label Mandela a terrorist or a communist who deserved to be locked up. Too many did. Throughout the 1980s the Thatcher government, almost alone in the Commonwealth, held out against the imposition of sanctions on white South Africa.
The Conservative Party stood on the right side of most of the great ideological struggles of the 20th century. On South Africa, it was wrong, and honourable Conservatives should feel a sense of shame as well as sadness at the news of Nelson Mandela's death."
READ:
Nelson Mandela: Inspirational Quotes from a Giant of History
Nelson Mandela: Images of an Icon
Nelson Mandela Dies Aged 95 LIVE REACTION
Nelson Mandela's Body Moved to Pretoria