Neo-Fascist Right Sector Wants to 'Destabilise' Ukraine, Warns President Turchynov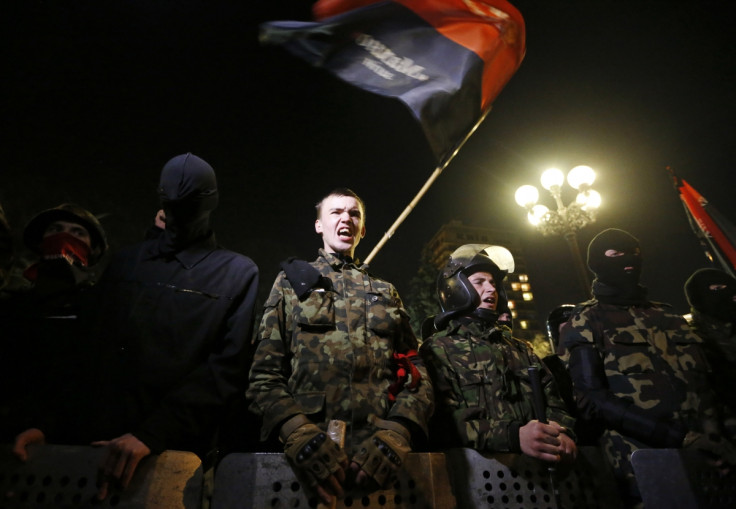 Ukraine's interim president Olexander Turchynov has warned that the far-right Pravy Sektor (Right Sector) paramilitary movement wants to "destabilising" the country.
Right Sector activists have blocked the parliament (Rada) building in Kiev and smashed windows to protest against the killing of Oleksandr Muzychko, aka Sashko Bily in a shoot-out with police.
Ukrainian police moved in to detain Sashko Bily after they found him at a café in the Western Ukrainian city of Rivne, but he was eventually killed after he refused to surrender.
Turchynov called the Right Sector rally that followed the incident "an attempt to destabilise the situation in Ukraine, in the very heart of Ukraine – Kiev".
"That is precisely the task that the Russian Federation's political leadership is giving to its especial services.
The role of Muzychko and Right Sector in post-revolution Ukraine was seized upon by Russia to argue Kiev had been taken over by fascists and neo-Nazis, thus justifying Moscow's military intervention to protect ethnic Russians in Crimea.
Muzychko was sought in Ukraine for organised crime links, hooliganism and for threatening public officials.
He was also on Russia's wanted list on charges of banditry and the establishment of an organised criminal group.
A Moscow court has issued an arrest warrant for the leader of Right Sector Dmytro Yarosh. The Basmanny court requested the arrest "in absentia", providing police with a simplified procedure for taking Yarosh into custody if he arrives in Russia.
Yarosh, who was already on Russia's wanted list for incitement to terrorism and extremism on social media, along with fellow Right Sector leader Oleksandr Muzychko, only recently announced his intention to run in presidential elections planned for 25 May.
A leading figure in the 2014 Ukrainian uprising, Yarosh advocated a "national revolution" during the protests and dismissed ousted Viktor Yanukovich's administration as an "internal occupational regime".
Yarosh, who considers the far-right Svoboda "too liberal", wants to ban both the former ruling party (Party of Regions) and the Communist Party of Ukraine.
Right Sector has been condemned by the US State Department for "inflaming conditions on the streets".
© Copyright IBTimes 2023. All rights reserved.