A man age 101 has been pulled alive from the rubble of his home in Nepal - the day after the Nepalese government said there was no hope of finding anyone else alive after the devastating earthquake.
Funchu Tamang is in hospital with what are described as minor injuries after being rescued in the Nuwakot district, north-west of Nepal's capital city Kathmandu.
"He was brought to the district hospital in a helicopter," said police official Arun Kumar Singh. "His condition is stable. He has injuries on his left ankle and hand. His family is with him."
Three women were also found alive in Sindupalchowk, which was one of the worst-hit areas.
However, Nepal's government has warned that the final death toll from last week's 7.8 magnitude earthquake is likely to rise far above its current total of 7,000.
Four Nepalese from Swindon are now known to have died, including former Ghurka Elia Ghale. Around 1,000 Europeans are also missing.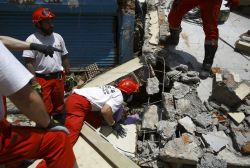 The UK has now donated £22.8m in humanitarian aid, making it the largest donor so far, but the scale of the task ahead is huge.
Speaking at an Asian Development Bank meeting in Baku, Azerbaijan, Finance Minister Ram Sharan Mahat said: "There are still villages where we know that all houses have been destroyed, but have not yet been able to reach."
Mahat's statement, published online by the bank, paints a bleak picture of the scale of the damage and challenges of achieving long-term recovery. 300,000 homes have been fully or partially destroyed, millions of people rendered homeless and 23,000 government buildings destroyed or damaged.
Relief convoys have found it hard or impossible to reach many areas because of damage to roads, and hunger and frustration are increasing. The UN's resident representative Jamie McGoldrick told Reuters the Nepalese must ease customs restrictions as many supplies are piling up at the airport. The Nepalese say one problem is finding enough truck drivers to deliver aid.
Finance Minister Mahat also described the damage done to the country's ancient heritage, which accounts for much of Nepal's attraction for tourists.
"The Changu Narayan temple that is about to collapse is more than 1,500 years old whereas temples, palaces and residences in the Bhaktapur, Patan and Kathmandu Durbar Squares easily date back to the pre-industrial era. They mark the glory of Nepali civilization in the central Himalayas."