A bleak picture is emerging from officials and aid workers in Nepal as they confirm they have are still without any news from up to 11,000 people living in the northernmost areas of Gorkha district, where the epicentre of the earthquake on 25 April was located.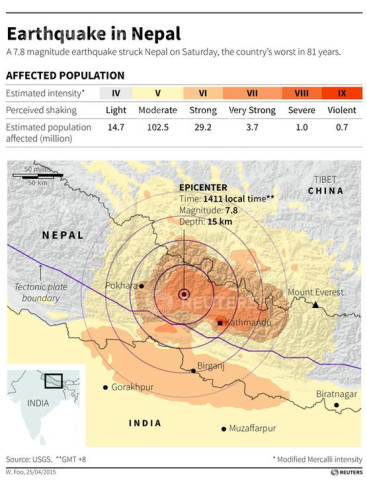 Although up to 90% of the buildings in areas a similar distance from the epicentre have been destroyed or rendered uninhabitable, relief workers are unable to assess the condition of the villagers in the mountainous district that has a population of about 350,000.
"There are 2,000 families living in this area, which means around 10,000 or 11,000 people. There is no electricity, no phone, no means of transport [there]," said Dhruba Devkota, project manager of Save The Children, one of the NGOs beginning to bring relief to Gorkha, told the Guardian.
Uddhav Prasad Timilsina, the most senior government official in Gorkha district, said some information had reached the administration from the northern area over satellite phones carried by two groups of about 20 mainly French trekkers walking near Manaslu, the world's eighth highest peak, who are now trapped there.
"We know there have been some big landslides but we have very little information, and none from some parts. These people cannot be reached," Timilsina added.
The confirmed death toll in Gorkha district, which is the worst hit in terms of physical damage, as a whole is 402 people. The overall death toll in Nepal has now passed 5,020, with more than 7,000 injured.