Nepal earthquake: Tensions rise among survivors after slow aid response to deadly quake
As Nepalese officials concede they had made mistakes in their initial response to Saturday's 7.8 magnitude earthquake, leaving victims stranded in remote villages waiting for aid and relief, survivors have been protesting the slow pace of aid delivery.
Anger is mounting steadily, with many Nepalis sleeping out in the open under makeshift tents and tarpaulins for a fourth night, as the death toll from the devastating earthquake rose to 5,093 on Wednesday 29 April.
In Kathmandu, more than 200 people blocked traffic, and there was a face-off with police forces, according to Reuters.There were minor scuffles but no arrests were made.
Shouting slogans against the government, one protester said survivors have not received any relief.
"We are hungry, we haven't had anything to drink. We haven't been able to sleep. I have a seven-year-old child who is sleeping in the open. It's getting cold and people are getting pneumonia," he told the Associated Press, accusing the government of not doing enough.
Elsewhere, a group of protesters broke into government offices in Dolakha district, the Guardian has reported.
"Hundreds of people came to the office and vandalised it" said the senior official in the district, Prem Lal Lamichhane.
"We have been requesting for basic tents, food and water, but we haven't received anything from the centre, so how can we provide help," he added.
Tensions rising between tourists and Nepalis
Tensions have also been rising between foreigners and Nepalis desperate for relief.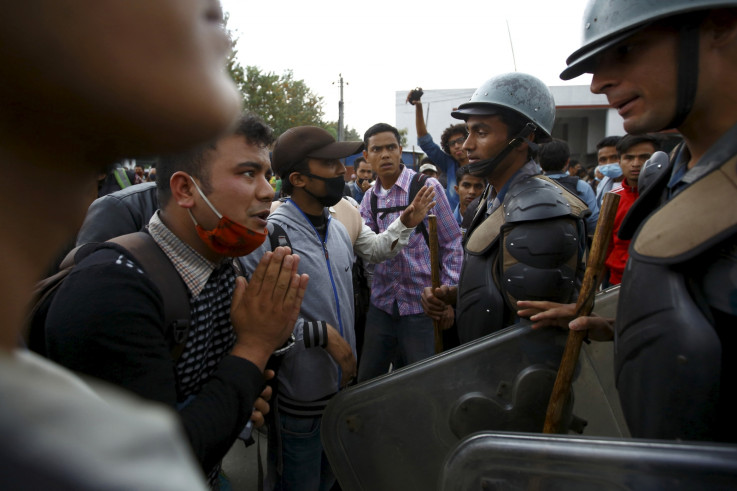 An earthquake victim requests help from a member of the Nepalese Armed Police Force while protesting against the government's lack of aid provided to the victims in Kathmandu, Nepal.
REUTERS/Navesh Chitrakar
Members of an Israeli search-and-rescue group named Magnus said hundreds of tourists, including about 100 Israelis, were stranded in Langtang in Rasuwa district, a popular trekking area north of Kathmandu hit by a fresh avalanche on Tuesday.
Reuters has described how Israeli trekkers fought for food and for places on rescue helicopters after being denied shelter by locals.
Israeli trekker Lily Milkovich said there had been fights to get on the choppers, but tensions eased when it became clear that there would be enough flights to bring everyone to safety.
One Israeli rescuer described the situation in Langtang as "tense", and said there had been fights over scarce food between stranded trekkers and Nepali villagers.
"Villagers think the tourists are taking too much of the food," said Amit Rubin, who is based at Kathmandu airport with a team from Magnus International Search & Rescue.
The Israeli helicopters were rescuing their own nationals first, before retrieving people from other countries, district governor Uddhav Bhattarai told Reuters.
Weaknesses in managing relief operation
The government, which has yet to fully assess the devastation wrought, is unable to reach many remote areas, despite aid supplies and personnel pouring in from around the world because of inclement weather, as IBTimes UK reported on Tuesday.
"This is a disaster on an unprecedented scale. There have been some weaknesses in managing the relief operation," Nepal's communication minister Minendra Rijal acknowledged late on Tuesday. "We will improve this from Wednesday."
Mercy Corps Nepal country director Sanjay Karki told IBTimes UK government rescue helicopters have been unable to land in remote mountainous areas.
Karki said on Tuesday his team has been trying to reach some of these remote areas where villages have been "swept away".
"There will be a lot of shortages of basic items, so there will be a sense of panic in these villages. An item crisis could happen at any time," he said.
Shambhu Khatri, a technician on board one of the helicopters, said entire hillsides had collapsed in parts of the worst-hit Gorkha district, burying settlements, and access was impossible.
More than eight million people have been affected.