Nepal earthquake rescues: Survivors pulled out of rubble in Kathmandu and Bhaktapur [Graphic images]
A teenager has been pulled out alive from under a collapsed hotel in Kathmandu, five days after the devastating earthquake. Pema Lama had been trapped under a piece of corrugated roof material, and had space to move.
Nepalese rescuers, supported by an American disaster response team, had been working for hours to free him. LB Basnet, the police officer who crawled into a gap to reach the boy, said he was surprisingly responsive. "He thanked me when I first approached him," said Basnet. "He told me his name, his address, and I gave him some water. I assured him we were near to him."
When he was lifted out, he appeared stunned, and his eyes blinked in the sunlight as workers hurriedly carried him to a waiting ambulance on a stretcher.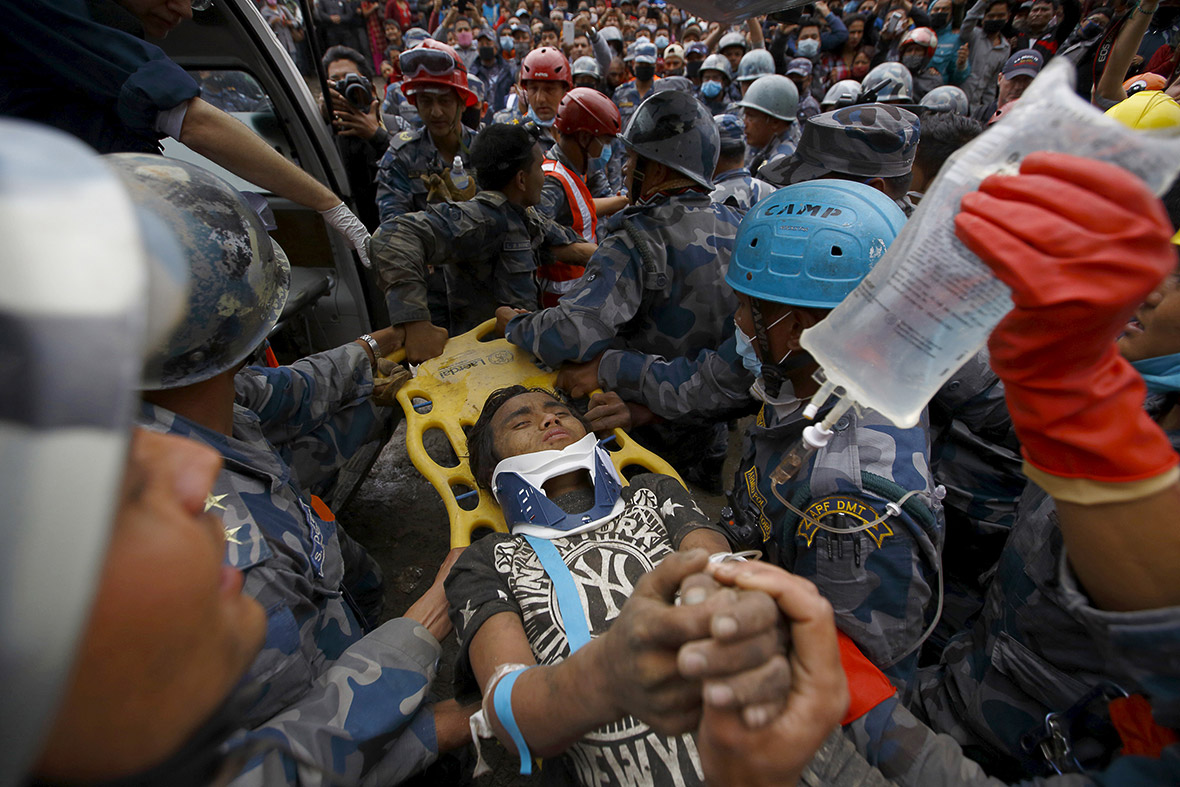 Lama's discovery came as a glimpse of hope in a country that has faced its worst earthquake in more than 80 years. Several bodies were also found in the rubble of the hotel, where heavy rain earlier in the day had hampered rescue efforts.
A four-month-old baby was miraculously rescued from under the rubble of a destroyed building in Bhaktapur. Rescue workers first missed the baby, identified as Sonit Awal, but later came to his rescue after hearing faint cries.
The baby, found covered in dust, was eventually rescued by officers who searched the entire area again.
A Nepali-French rescue team pulled a 28-year-old man, Rishi Khanal, from a collapsed apartment block in Kathmandu on Tuesday 28 April after he had spent around 80 hours trapped in a room with three dead bodies.
Khanal had been on the second floor of a seven-storey building when the quake struck. The top floors were intact and the teams drilled down to him after he shouted for help and responded to questions in Nepali.
"I managed to take out the handkerchief from my pocket, soaked it with my urine and squeezed it in my mouth," Khanal said, a day after he had one of his legs amputated. "It gave me some energy to shout and I survived."
Rescue workers pulled a Nepalese woman alive from debris on 27 April, 50 hours after the powerful earthquake struck Nepal. The woman was then rushed to a nearby hospital in Kathmandu.
"We got the information that a lady is stuck between two slabs. There is some cavity and she is alive. Firstly, we stabilised the particular area and then we gave some life-saving medicine to that particular lady. After stabilising her, we just took her out," said Kulish Anand, NDRF assistant commandant.
A man was rescued from the ruins of a collapsed three-storey house in Swyambhu, west of Kathmandu's city centre.
The earthquake flattened parts of the house, trapping two friends side-by-side – one dead, the other alive – for more than 18 hours.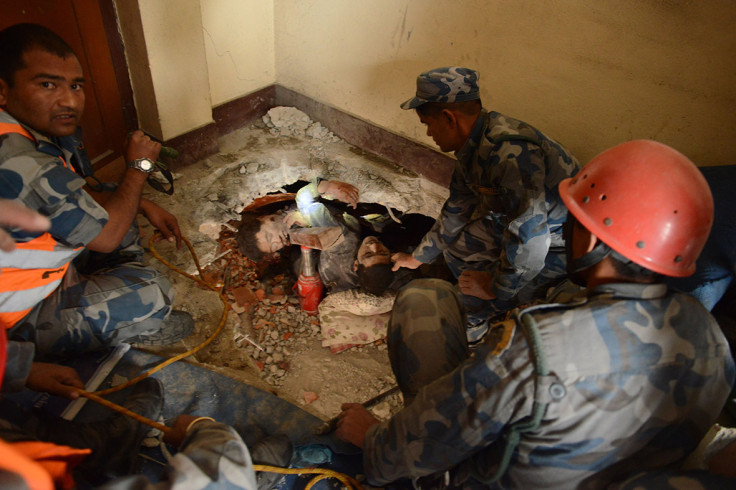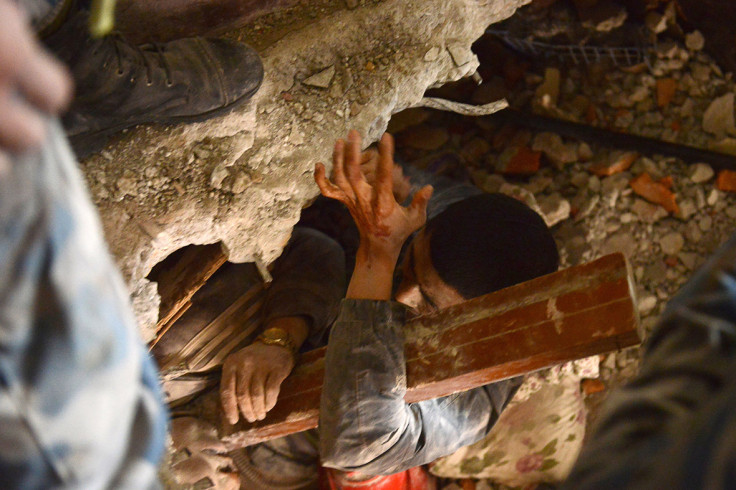 A woman was pulled out of the debris of Kathmandu's historic Dharahara Tower after it was destroyed by the earthquake.
The landmark was built in 1832 for the queen of Nepal, and had a viewing balcony. A jagged stump was all that was left of the lighthouse-like structure.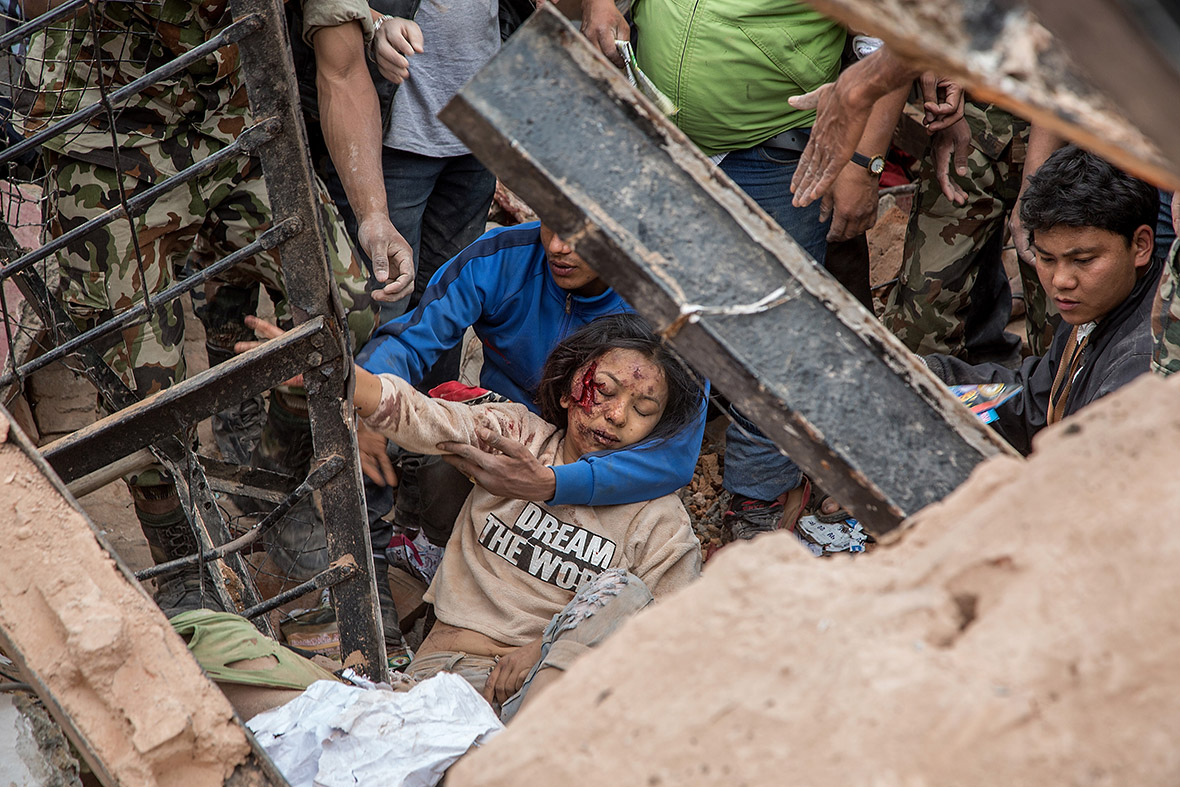 A Nepalese government official said the number of confirmed deaths from the 7.8 magnitude earthquake had risen to 5,489, and almost 11,000 were injured.
Foreign rescue teams have told government officials their work is nearly done because there was little chance of finding many more survivors.
© Copyright IBTimes 2023. All rights reserved.