A 15-year-old boy has been pulled alive from the rubble of Nepal's devastating earthquake five days after the 7.8 magnitude disaster shook the Himalayan country killing more than 5,000 people.
The teenager, identified as Pemba Tamang or Pema Lama, was rescued from the wreckage of a Kathmandu building of five storeys. Footage and pictures showed a crowd of rescue workers trying to drag him out of the rubble.
The teenager – his face covered in dust and mud, stunned eyes blinking in the sunlight – was carried away on a stretcher after medics placed a blue brace around his neck and put an IV drop into his arm. He has been taken to hospital.
"A 15-year-old boy has been rescued from the rubble of a lodge called Hilton Guesthouse," police spokesman Kamal Singh Bam told AFP. "We are awaiting more detail."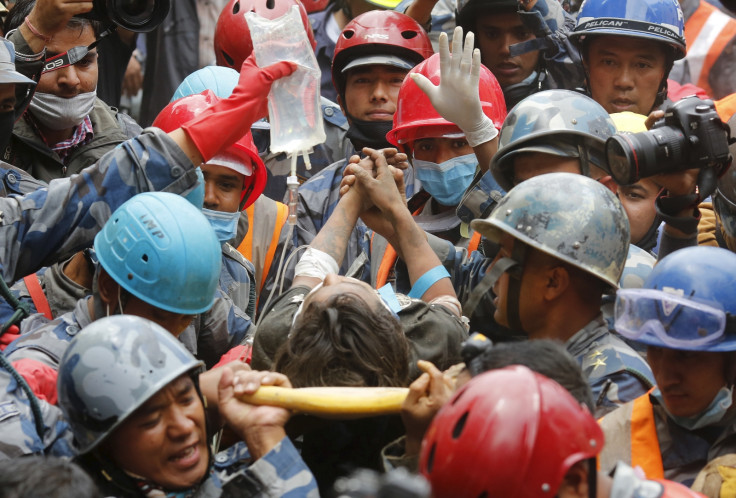 The US agency for international development, the USAID, participated in the two-hour effort along with Nepalese rescuers to free the trapped boy.
"He's not too far down, but the floors have collapsed and he'd pancaked between them," Andrew Olvera, an urban search and rescue member with the USAID's Disaster Assistance Response Team, told AP before the boy was pulled out.
LB Basnet, the police officer who personally lifted Pema from a gap in the rubble, said the boy "thanked me when I first approached him".
"He told me his name, his address, and I gave him some water. I assured him we were near to him," he said.
The miraculous rescue was a gleam of good news since last Saturday's quake (25 April), which was the deadliest in Nepal for more than 80 years.
The UN has launched a $415m (£270m) appeal for the Nepal earthquake survivors.
BBC News reported the UN's resident co-ordinator for Nepal, Jamie McGoldrick, as saying: "Although I am heartened and encouraged by the progress of the response to date, efforts need to be maintained and stepped up to ensure vital assistance reaches all the affected, especially those in the remote areas."
The 7.8-magnitude earthquake that hit Nepal on Saturday has already caused the deaths of 5,000 people with at least 10,000 reported injured and 70,000 houses destroyed.
According to the UN, people in remote areas remain stranded without basic needs, like water, shelter and food.