Rishi Khanal, a Nepali-French national, was pulled out from the debris of a residential complex in the Nepali capital on 28 April. He had spent around 82 hours alongside three dead bodies and unbearable stench in a tiny space after the apartment was brought down by the massive quake, which has killed thousands.
"There was no sound going out, or coming in. I kept banging against the rubble and finally someone responded and came to help. I hadn't eaten or had anything to drink so I drank my own urine," says the 28-year-old survivor.
A French-led rescue team was relentlessly working to pull Khanal safely alive for nearly 10 hours. The team, which brought special detectors to look for survivors, found Khanal when he was barely breathing with his leg strapped beneath a damaged concrete beam.
"We started drilling a hole through the concrete according to the French team's instructions, then they brought special equipment to cut the beam his leg was stuck under, only to find out his other leg was also caught on something. After cutting the ply, we were finally able to rescue him alive," Narayan Thapa, a member of Armed Police Force who was part of the rescue measures, told Nepali Times.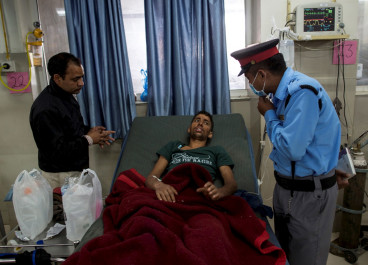 As soon as rescuers found Khanal was alive, they began supplying him with water and oxygen through a special tube.
Speaking to the Associated Press from his hospital bed flanked by his family members, Khanal said: "I had some hope but by yesterday I'd given up. My nails went all white and my lips cracked ... I was sure no one was coming for me. I was certain I was going to die."
He was on the second floor of the seven-storey building, a guesthouse, when the powerful tremor rocked Kathmandu. It is still unclear whether Khanal was a guest or working at the building.
The death toll in the quake has reached 5,000 while more than 10,500 people have been injured.