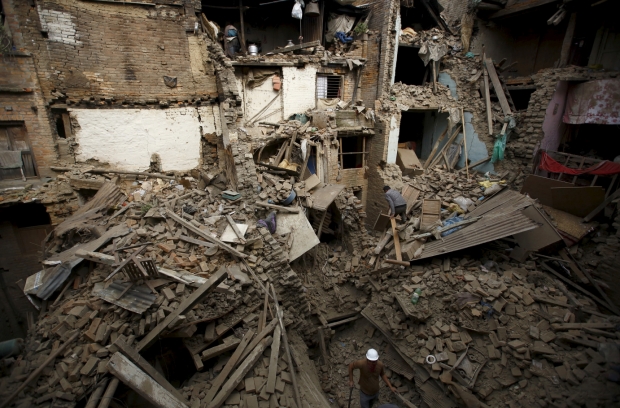 Efforts to reach remote areas of Nepal have been hampered by inclement weather that has rendered roads unusable, as the country's Prime Minister Sushil Koirala announced the death toll could pass 10,000.
Mercy Corps Nepal country director Sanjay Karki told IBTimes UK his team has been trying to reach some of these remote areas where villages have been "swept away" following Saturday's (25 April) 7.8-magnitude earthquake that killed at least 5,000 people.
"Some of the remote areas that have been affected face the issue of transportation and access. There has been heavy rain since [Tuesday] afternoon, and search and rescue operations taken by the police force and the army with helicopters are off because of the bad weather," Karki told IBTimes UK from Kathmandu.
"There are problems with access to roads, especially the only highway that connects Kathmandu, so any time landslides could happen on these hilly roads, and the transportation could halt."
Getting around is one of the biggest challenges of travelling in Nepal according to Rough Guides, which points to poorly maintained highways and unpaved roads.
"Wherever you travel, the route will probably be new in parts, disintegrated in places, and under construction in others," the travel publisher said.
Aid stranded as rain pours down
Supplies, medicine, rescue teams and millions of dollars are pouring into the country, but a logjam at Kathmandu's sole airport and unusable roads mean government forces and emergency organisations are struggling to distribute the much needed help in areas outside of Kathmandu.
"It is not a good sign, because distribution is yet to start in full-swing," explained Karki, whose NGO is planning to send a team 18 miles west of Kathmandu to the district of Gorkha where the epicentre was, as well as villages to the east of the city which "suffered from ensuing landslides".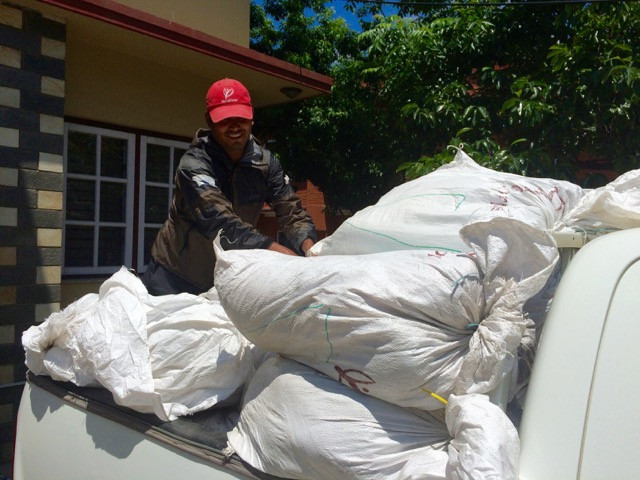 Mercy Corps has to distribute 5,000 bags of household supplies, 2,000 shelter kits and 5,000 tarps as soon as possible
Mercy Corps
"There will be a lot of shortages of basic items, so there will be a sense of panic in these villages. An item crisis could happen at any time," he said.
This may get worse before it gets better and there are fears that these villagers could remain cut off from the world for days and face starvation.
According to the Met Office, the weather forecast for Kathmandu includes heavy rain and thundery showers until at least Saturday 2 May.
BBC Weather says it is "very likely" the country will experience relentless showers and thunder until after Thursday 7 May.
Hundreds queuing in Kathmandu
However, NGOs including Mercy Corps - which has more than 90 staff members in Nepal - began on Monday distributing 300 to 400 essential items, including bags of blankets, shelter kits, utensils, water purification tablets and clothes, to survivors in pockets in and around Kathmandu.
The government established a National Emergency Operating Centre, from where bodies from the private sector and humanitarian agencies are coordinating their efforts.
Distributions have to be organised with the Ministry of Home Affairs of Nepal, partners and stakeholders in the communities to "avoid any looting".
While he says the phenomenon is not extensive, Karki confirmed reports of instances of sporadic looting across the capital.
As the government prioritises the distribution of essential items such as fuel and gas to hospitals, Karki spoke about short supplies of food and energy in Kathmandu. Some water sources have been contaminated.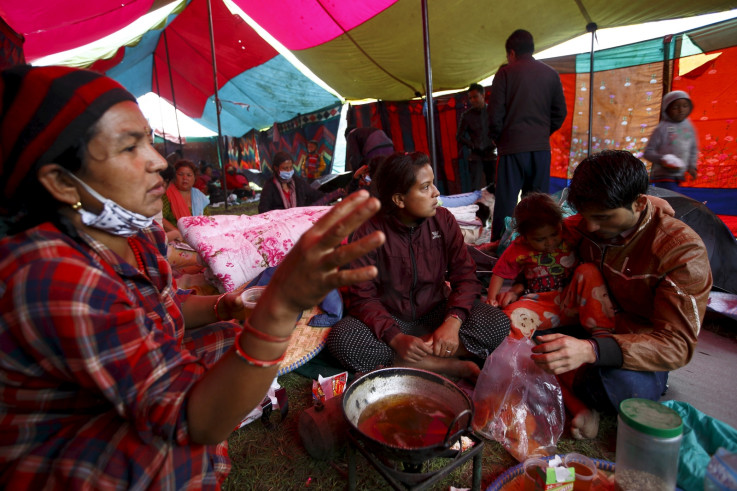 People cook food inside a makeshift shelter after Saturday's earthquake, in Kathmandu
REUTERS/Navesh Chitrakar
"Most of the [petrol] stations and shops were shut down. There is a sense of panic, everyone is rushing to get these essential items, so there have been long lines of people queueing outside shops and near water supply tankers. Hundreds of people trying to get their hands on basic food items, including rice, lentils and water."
The UN has estimated that eight million people have been affected, more than a quarter of the population, and that 1.4 million people require food.
Blood supplies and medicine are also starting to run low, and Karki warns "these essential medicines will run out".
"Water and sanitation are going to be the major issues going forward. There is overcrowding of people, so there will be shortages of food. This will all add up."
Koirala said the government was doing all it could but was overwhelmed.