Nepal has been struck by another strong earthquake just a few weeks after a magnitude 7.8 quake killed over 8,000 people.
The latest earthquake, measuring 7.3, hit near Mount Everest. The epicentre was 18km south east of Kodari at a depth of 15km. So far, at least four people have been confirmed dead and over 300 injured.
Experts from the British Geological Survey have said the latest earthquake was likely the result of pressure built from the last one.
Brian Baptie, head of Seismology at BGS, told IBTimes UK: "The epicentre of this was about 75km east of Kathmandu and it looks like it occurred at the eastern edge of the segment of the plate boundary that ruptured in the event on 25 April. That suggests it's a new rupture on the plate boundary immediately to the east of the rupture of the previous event.
"That kind of behaviour is entirely possible because you can get transfer of stresses from one rupture to another that can move these segments far closer to failure effectively."
When energy is released from one part of the earth in an earthquake, normally it takes a while for movement to settle down – this is what aftershocks are following an event. Normally, aftershocks are at least one magnitude lower than the main one.
The stress released at the 25 April earthquake could have been passed along to a section further down the line.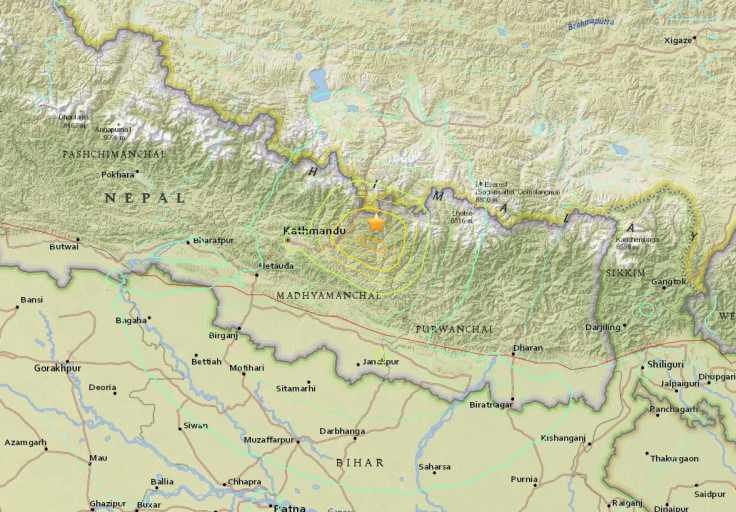 Baptie said: "It's not so different to aftershocks. Aftershocks are a result of the adjusting to the new stress regime from the first event. It could be considered an aftershock in some ways, but it looks at the moment - from the preliminary information we've got - that it may have happened on another segment of the plate boundary a little bit further to the east, directly to the east of where the first earthquake occurred."
He said that there have already been a number of aftershocks from the latest earthquakes, and that another larger one could hit in the near future: "You can't rule it out. It's impossible to say the timescales on that kind of process. It's highly uncertain.
"Looking back at historical times at earthquake behaviour on this plate boundary, there haven't really been quite such dramatic cascades of earthquakes – the large events anyway seem to be more widely spaced in time, coming every 50 to 100 years rather than every couple of weeks. It seems to be a bit unusual but we don't really know a lot of earthquake history very well."
At present, seismologists can look back at earthquake history for about 1,000 years, but even this does not give a completely accurate picture of what has happened over time.
"We can't predict earthquakes," Baptie explained. "We can make forecasts for the probability of earthquakes over longer periods of time, so this is long-term forecasting or seismic hazard. But in terms of being able to say exactly where, when and how big the next earthquake at any place is going to be we're a very long way from that at the moment."