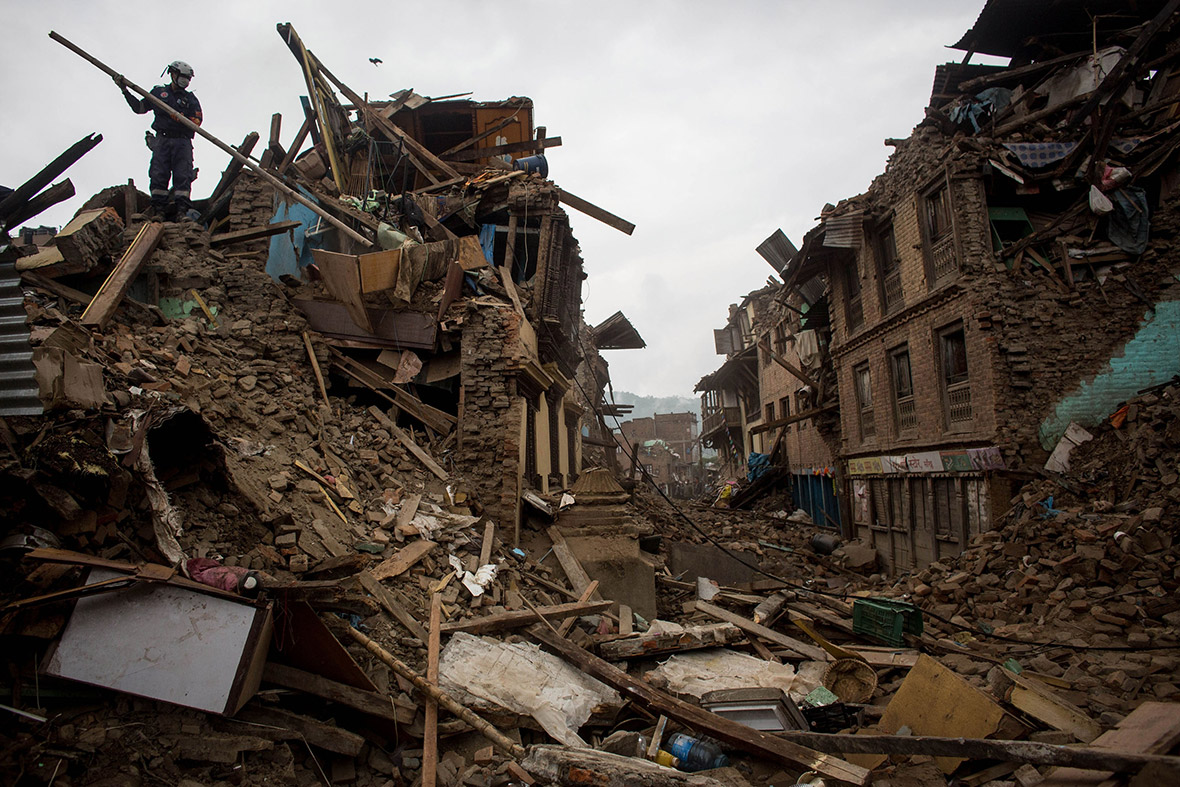 A strong earthquake has struck Nepal 18 days after the devastating 7.8 magnitude quake that killed at least 8,046 people and injured a further 17,800.
The 7.4 magnitude earthquake, only 19 km deep, struck 68 km west of Namche Bazaar in north-eastern Nepal, according to the US geological survey (USGS).
The USGS had earlier reported the magnitude at 7.1 - but later upgraded it to 7.4.
A terrified crowd gathered in the streets of Nepal's capital Kathmandu after the quake. Tremors were also felt across India, with buildings shaking in Indian capital New Delhi.
Reuters reported that the quake's epicentre was close to Everest Base Camp, which was evacuated after an avalanche triggered by the April 25 quake killed 18 climbers.
"This is a really big one," Prakash Shilpakar, the owner of a craft shop in Kathmandu, told the Reuters news agency.
According to some reports, the quake demolished a lot of buildings that survived the previous catastrophe. Jack Board, international correspondent for Channel News Asia, reported that the walls inside the international terminal at Kathmandu airport started to crumble after the quake hit.
Mark South, a Red Cross worker based in Kathmandu, told NBC news that the tremors were big enough to "scare the living daylights out of everybody."
He said: "From where I'm standing I can't see any damage but just a lot of very frightened people."
UPDATE 9am GMT: Two magnitude 5.6 and 6.3 earthquakes hit Nepal less than an hour after the first tremor, according to the USGS.
UPDATE 9:26am GMT : Buildings have collapsed in Chautara after the earthquake killing at least four people, according to AP.
UPDATE 9:50AM GMT: Three major landslides were reported in Sindhupalchowk district with at least 12 people hurt, a district official said.
Paul Dillon IOM spokesman in Kathmandu, described the aftermath of the newest quake to IBTimes UK.
"People who wisely decided not to return to their homes were running in the streets. The most striking features were the buildings swinging back and fourth.
"Hundreds of people poured out in the streets. Mums with their kids hysterically screaming. Men running in and out of the buildings. A gentleman was staggering alone with just the towel on - he was probably having a shower when the quake struck.
"The aftershocks did nothing to calm the situation down," he said.
Dillon said that 90% of the buildings in Chautara, a municipality three and a half hours from Kathmandu, had structural damage after the 25 April earthquake but people decided to move back in anyway. "A couple of taller buildings remained standing and people returned to their homes," he said. "The newest earthquake destroyed those buildings and four people living in the 2nd and 3rd floor died as a result."
"It's important that engineer assess the damage because those buildings may look fine at an untrained eye, but instead are structurally unsound," he said.
UPDATE 1:46PM GMT The Nepal's home ministry has raised the death toll from Tuesday's earthquake to at least 42, with 1,117 people injured.