Net Neutrality day of action: How the massive online protest unraveled
Over 1.6 million comments have reportedly been sent to FCC as tech giants joined the war against the proposed net neutrality regulations.
As the debate over Net Neutrality flares up in America, some of the most prominent Silicon Valley tech giants came together to take part in one of the biggest protests ever witnessed on the internet. Google, Facebook, Twitter, Reddit and Netflix were among a whole host of major firms that joined the Net Neutrality day of action protest, which saw over 125 websites, organisations and internet users come together to fight FCC's new proposed regulations.
The day of action protest was organised by a coalition of pro-net neutrality non-profit organisations. It saw tech firms such as Spotify, 4chan, Airbnb, Amazon, Mozilla, OK Cupid, Vimeo, Tinder, Expedia, Pornhub, Imgur, Yelp, and Soundcloud display prominent messages on their websites to protest the FFC's plans to slash Obama-era net neutrality regulations and encourage users to take action by reaching out to the FCC and the US Congress via websites such as BattleForTheNet.com that simplify the process.
According to Fight for the Future, one of the primary organisers of the online protest, over 1.6 million comments have been sent out to the FCC and over three million emails and phone calls were made to the Congress.
How tech firms participated
Websites such as Reddit, Netflix, Kickstarter, Vimeo and AirBnB posted prominent messages on their websites supporting the protest and urging users to participate. Facebook CEO Mark Zuckerberg wrote a brief post supporting Net Neutrality rules. Meanwhile, Twitter penned a blog post urging users to "join the fight" and assigned its primary tending hashtag position to #NetNeutrality.
Google also wrote a post encouraging users to "make your voice heard." Pornhub also asked its users to join the protest to "save net neutrality" because "slow porn sucks."
The founder or the World Wide Web Tim Berners-Lee took to Twitter to write the Net Neutrality allowed him to invent the web "without having to ask for permission."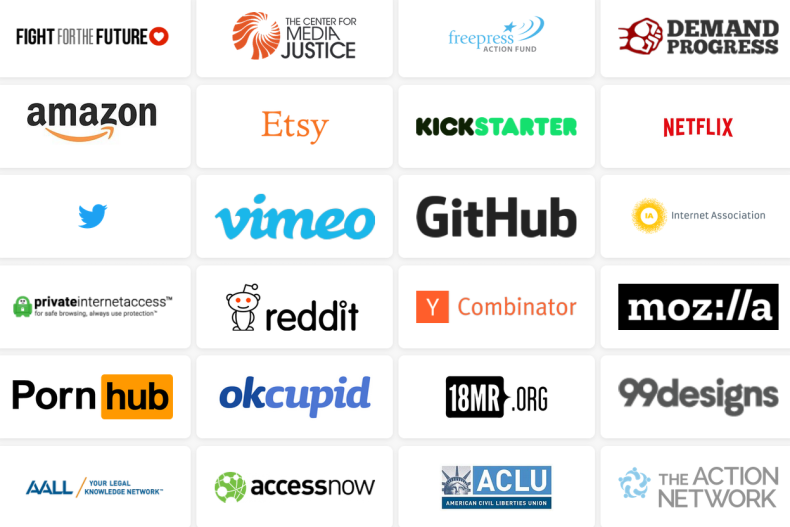 US politicians also joined the online protest. The mayors of over 50 major American cities penned a letter to FCC chairman Ajit Pai, cautioning that removing Net Neutrality protections "poses a significant risk of stifling American innovation and harming local economies across the country."
The FCC and Pai are yet to comment on the matter.