Israeli Prime Minister Benjamin Netanyahu announced he plans to call US President Donald Trump on Sunday (22 January), in what would be their first conversation since Trump's inauguration.
Netanyahu told broadcasters he planned to discuss the "Israeli-Palestinian issue, the situation in Syria, the Iranian threat", before he entered an Israeli cabinet meeting.
The announcement comes a day after Netanyahu released a propaganda video on his Facebook page, where he hoped to win over the Iranian people, pitting them against their theocratic government.
In a pre-scripted message for "every Iranian," the Israeli PM said: "I know you'd prefer to live without fear. I know you'd want to be able to speak freely, to love who you want without the fear of being tortured or hung from a crane. I know you'd like to surf the Web freely and not have to see videos like this one using a virtual private network to circumvent censorship.
"You have a proud history. You have a rich culture. Tragically, you are shackled by a theocratic tyranny. In a free Iran, you will once again be able to flourish without limit. But today, a cruel regime is trying to keep you down."
The call between Trump and Netanyahu, if it takes place, would confirm an expected strengthening of relations between the US and Israel after tension grew between Netanyahu and former president Barack Obama.
In a historic move before Obama left office, the US declined to use its veto power in the United Nations Security Council and abstained on a vote on a resolution which demands that Israel stop all construction of settlements on occupied Palestinian land.
Despite the vote, which was approved on a 14-0 basis, and growing resentment at Israel continuing to flout international law, Israel indicated it would ignore the UN's resolution.
Now that Trump has been sworn in, Israel has this weekend approved hundreds of new settlement units in occupied East Jerusalem.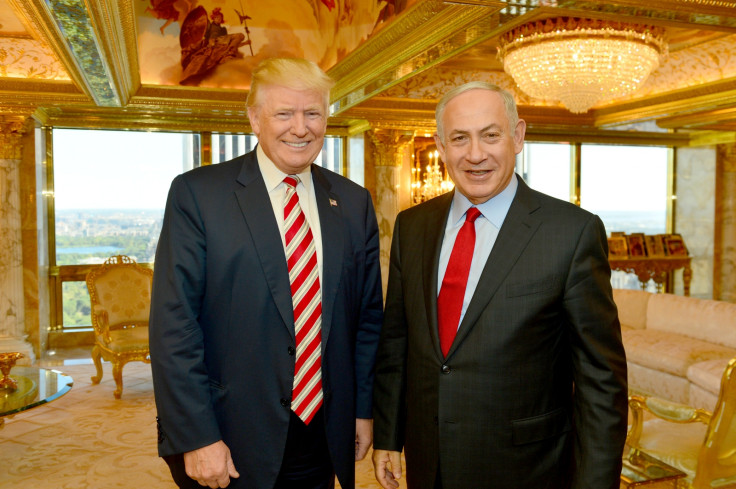 On Sunday, Jerusalem's City Hall approved construction for 566 new illegal settlement units in Pisgat Zeev, Ramat Shlomo and Ramot, reported the BBC.
Jerusalem Deputy Mayor Meir Turgeman told AFP: "Now we can finally build. I was told to wait until Trump takes office because he has no problem with building in Jerusalem.
"The rules of the game have changed with Donald Trump's arrival as president. We no longer have our hands tied as in the time of Barack Obama."
Settlements are widely considered as an encroachment of Israel's borders into Palestinian land and are a barrier to the two-state solution.
Notable critics such as Gideon Levy have even stated "the two-state solution is dead" because of the rapidly increasing number of settlers breaking up the possibility of a viable Palestinian state.
Further settlements are also likely to isolate Israel further on the international stage. Last week, over 70 countries attended a conference in France aimed at restarting the Israel-Palestine peace process.