Netherlands: Five giant sperm whales die after becoming stranded on Dutch island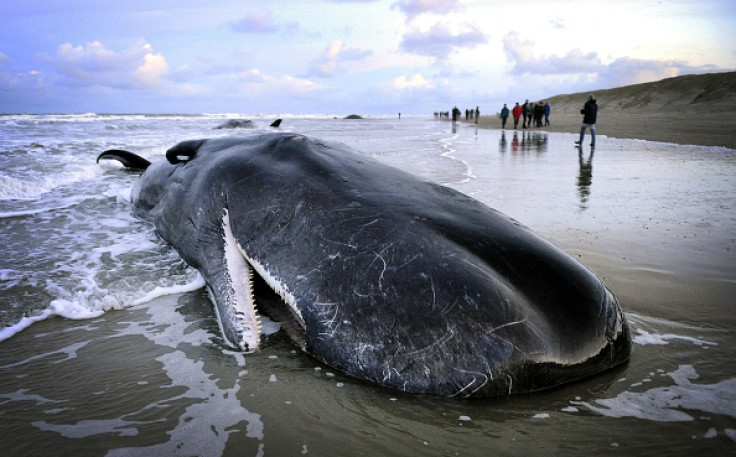 Giant sperm whales have died after washing up on a Dutch beach. The five whales were found beached on Texel Island in The Netherlands, on Tuesday 12 January and died overnight after being stranded for several hours, the municipal authority for the island said.
"On Tuesday, five sperm whales got stranded at Texel at the end of the afternoon," it said in a statement. "Because the animals were still alive, the whale stranding protocol of the Ministry of Economic Affairs came into force in order to help them. Unfortunately none of the sperm whales survived the stranding," it said.
Authorities have urged people to stay off the beach till the whales' carcasses are cleared. "No unauthorized persons should approach the animals because the decomposing carcasses can be harmful to health," the statement added. It said that officials were examining the reason for the stranding of whales and the exact cause of death.
Rescue of the stranded whales could not be continued in the night due to weather conditions which made it impossible to move the giant mammals, experts said. Two of the whales were already on their sides and they suffered significant damage from sand and waves.
"Lying on the beach is usually fatal in large whales. It causes very fast and extensive muscle damage (myopathy) in them. In addition, the surf was quite strong during the stranding and some animals lay on their sides with the blowhole in the water, so they could breathe. The animals may have accumulated sand inside," the experts said.
Sperm whales are the largest-toothed whales on earth. Male sperm whales are usually larger than the females. They can measure up to 20 metres long and weigh over 50 tonnes. More details, including the gender, height and weight of the dead mammals will be announced after further examination, the authorities said.
© Copyright IBTimes 2023. All rights reserved.