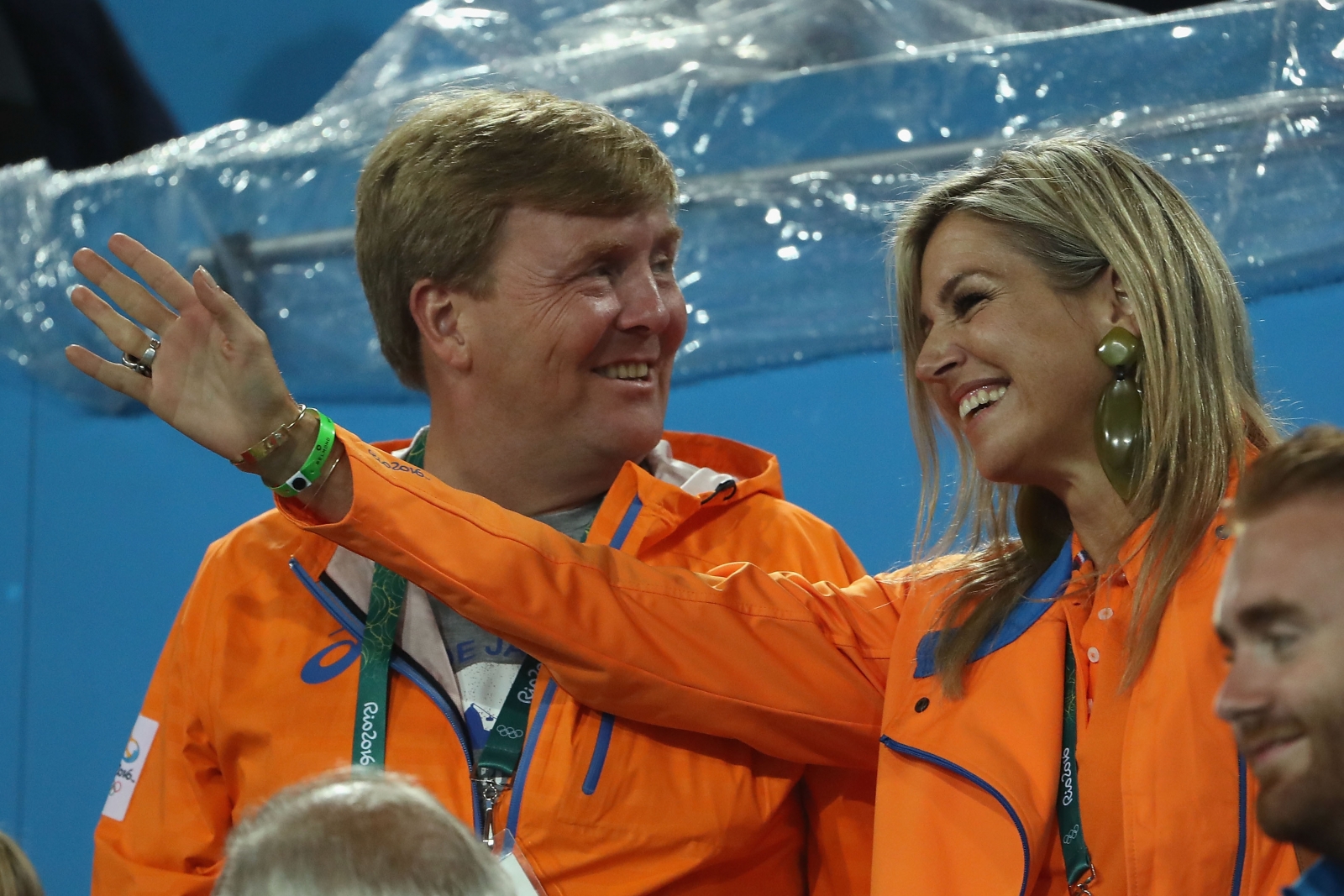 The Netherlands' royal family have certainly not been shy about expressing their emotions on the side-lines of the Rio 2016 Olympics. Argentinian-born Queen Maxima accompanied her husband King Willem-Alexander at a number of Olympic events including the hockey, swimming and sailing.
Maxima, 45 – who became the first Dutch queen consort since 1890 in April 2013 – exuded excitement for the quarter final hockey match between the Netherlands and Argentina at the Olympic Hockey Centre on Monday (15 August.).
Onlookers could only guess which team she was supporting judging by her animated gestures, cheering and verbal exchanges with Willem-Alexander as the married couple of 14 years wore matching orange jackets for the occasion. Maxima also wore a pair of statement earrings and an orange polo T-shirt with skinny jeans which undoubtedly made her stand out from the crowd.
The royal couple – seen laughing and joking throughout the game, and celebrating every Netherlands' goal – seemed happier than ever. The match turned out to be the toughest test yet for the Netherlands in Olympic women's field hockey when they beat No.2-ranked Argentina 3-2. They will take on Germany in the semi-finals on Wednesday. Both teams have won gold before, but the other semifinalists, New Zealand and Britain, have not.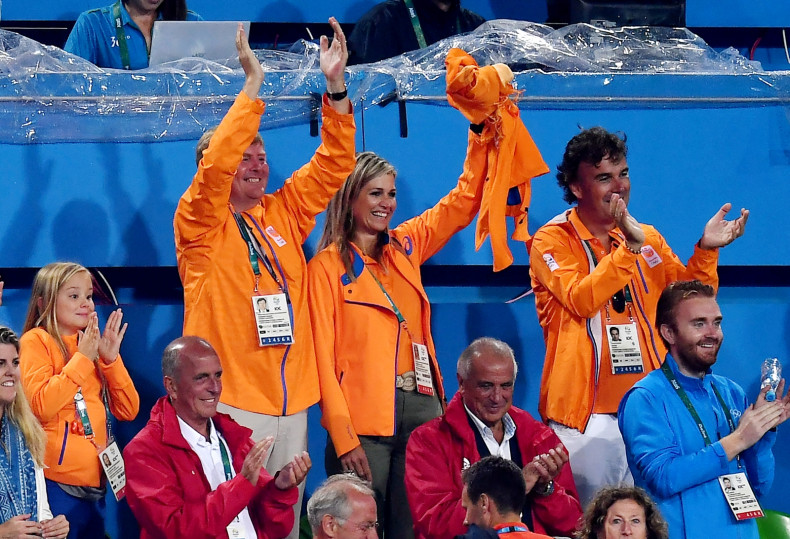 Queen Maxima has done the rounds during the games, and was pictured congratulating Netherlands' Sanne Wevers on winning the women's balance beam event final of the Artistic Gymnastics at the Olympic Arena. The royal looked resplendent and fashion-forward in a cream and blue embroidered dress with oversized gold earrings for the event and was delighted to exchange words with the Olympian.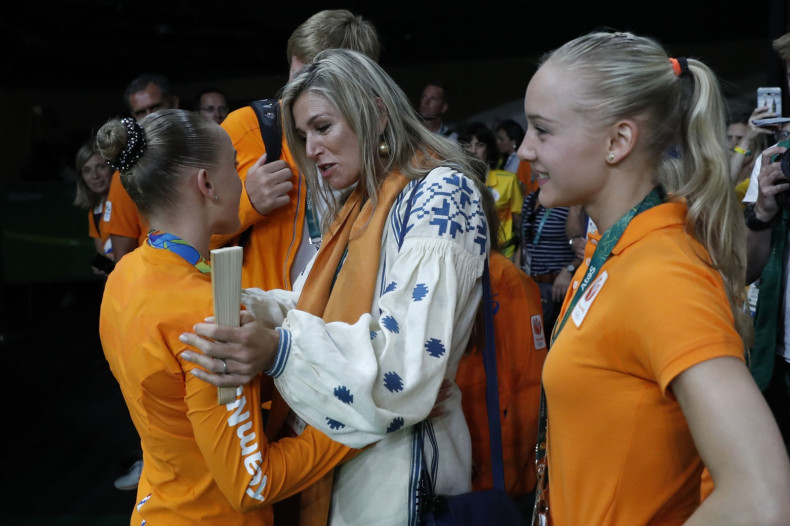 Daughters Princesss Catharina-Amalia, Princess Alexia and Princess Ariane joined the couple to watch Wevers claim her gymnastic victory, with all three girls applauding the gold medallist on the win.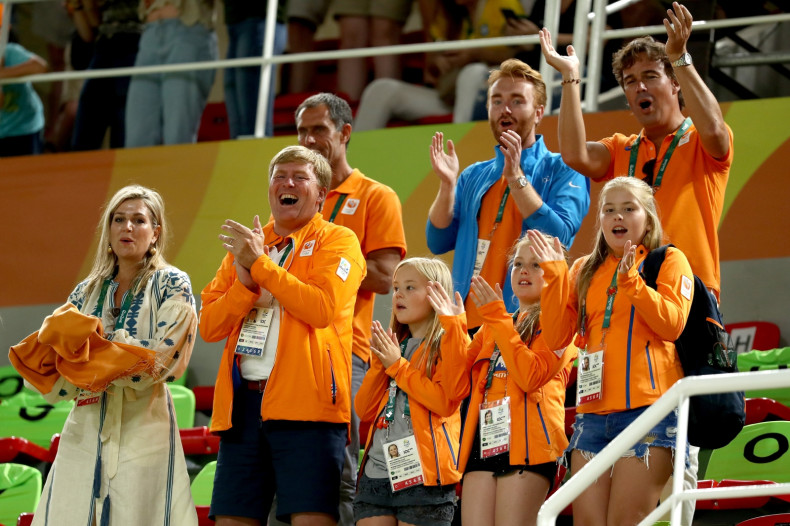 Maxima and Willem-Alexander – along with their three daughters – were spotted in fits of laughter while watching the Men's 100m medley relay final in the Olympic Aquatics Stadium on day eight of the Rio Olympics (Sunday 14 August). Dressed casually, the Dutch royals appeared to be enjoying a break from regal duties.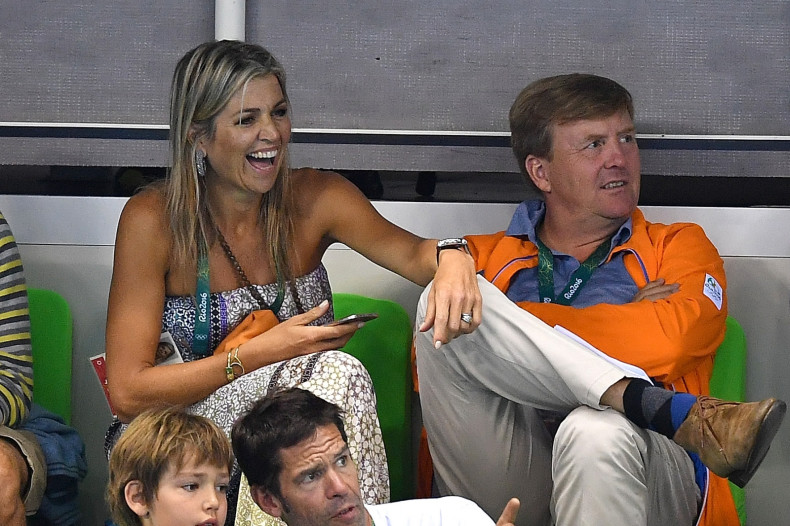 Maxima looked relaxed in a strapless printed summer dress, while she joked with her husband who looked equally nonchalant in an unbuttoned polo T-shirt and chinos.
Their appearance at the Rio Olympics comes just weeks after a Dutchman was sentenced to 30 days in jail for insulting King Willem-Alexander. The 44-year-old convict, who remains anonymous, posted a message on Facebook in April 2015 branding the king a murderer, rapist, 'oppressor' and thief.
Judge Sylvia Taalman claimed he had "damaged the dignity of the king" and that his behaviour "is not acceptable in our society" in a written verdict under a rarely enforced 19<sup>th century law.