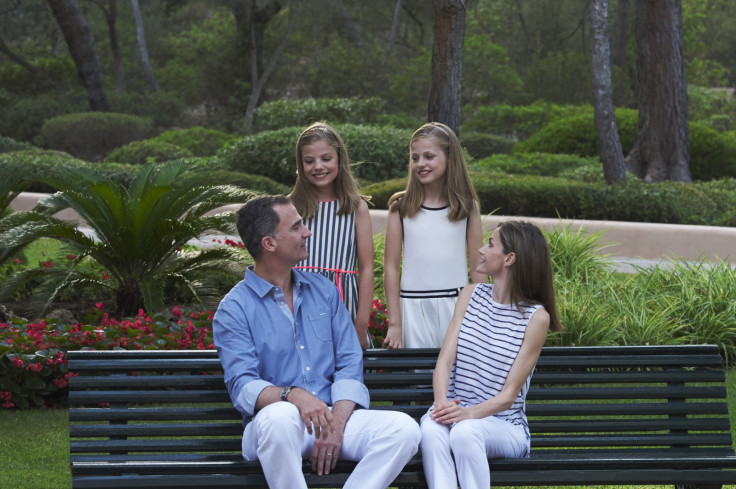 The Spanish royal family worked a nautical theme on their holiday in Palma de Mallorca, Spain, where they spent quality time together strolling through the idyllic gardens of Marivent Palace on Thursday (4 August).
Queen Letizia lead the maritime sartorial glamour in a loose-fitting white and navy striped tank top which featured a split open back and sheer insert. She teamed the fashion-forward piece with white roll-cuff trousers and bespoke snakeskin sandals by her go-to shoe label, Magrit.
The 43-year-old wore her brunette hair in a natural, straight style and accompanied her husband King Felipe VI and their daughters Crown Princess Leonor and Princess Sofia for the daytime outing on the island of Mallorca where they are spending their annual summer holiday.
The royal couple's two daughters most definitely inherited their natural flair for fashion from their parents, as 10-year-old Leonor looked adorable in a pleated white dress featuring black accents by fashion designer Caroline Herrera, while her nine-year-old sister wore a pretty white striped nautical inspired dress by Nanos with a pink waist belt.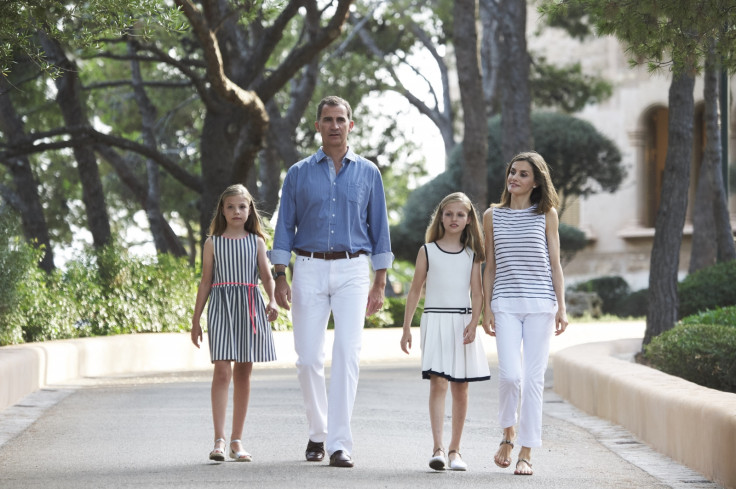 In high spirits, the family greeted photographers taking pictures of their walk in the palace grounds – a regular summer place of residence for the former King Juan Carlos. Felipe, 48 – who became king on 19 June 2014 – has continued his father's tradition by visiting the picturesque grand home on the Balearic island since his enthronement.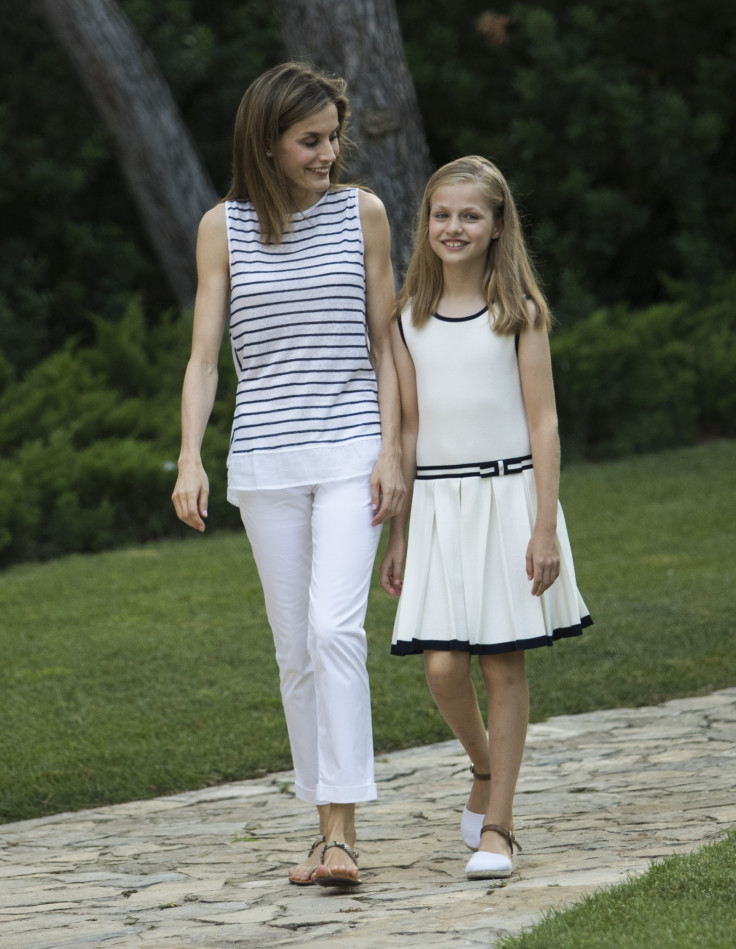 The Spanish monarch appeared delighted by the family outing and was casually dressed in a stylish blue shirt with white chinos and brown slip on leather shoes as he took some time out from his royal duties to spend time with his former news anchor wife and two daughters.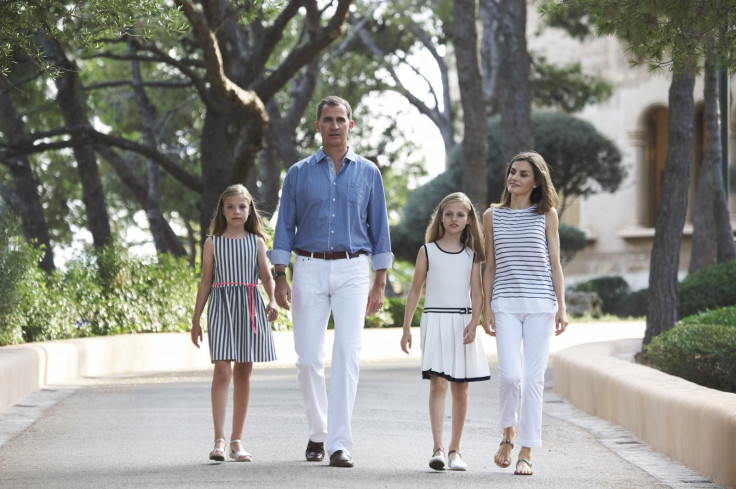 The luscious grounds of the palace are gamed for their tranquil, peaceful gardens and stunning sea views. Last year's trip was tainted with sadness for Letizia as it came just days after her grandfather Francisco Rocasolano Camacho passed away. A close family figure, he attended the royal wedding between her and Felipe in a Madrid cathedral in 2004, witnessed the birth of Letizia's daughters and accepted an invite to the couple's coronation in 2014.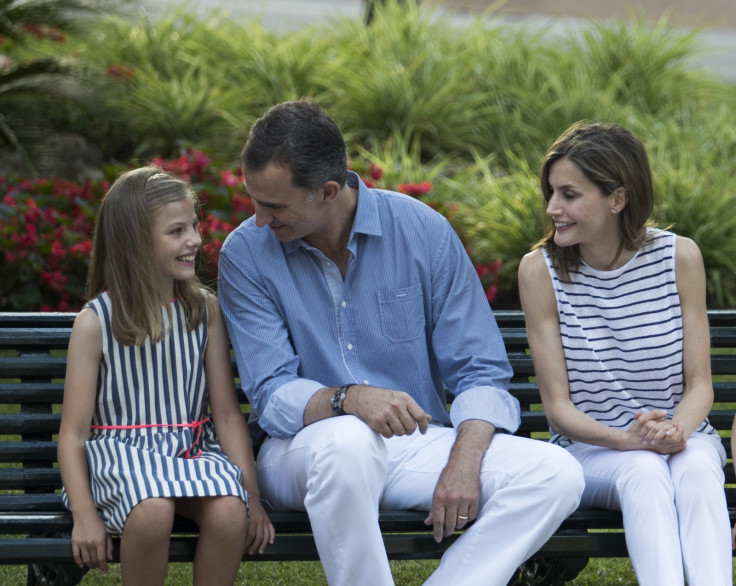 Letizia appeared in good spirits this year and has been spotted out and about in the Mallorcan capital, with the family reuniting with other Spanish royal family members - including Juan Carlos and his wife Silvia - for a traditional Mediterranean dinner at esteemed restaurant Flanigan in sailing harbour, Puerto Portals. Their holiday will no doubt involve other public engagements, as last year the royal couple hosted a gala dinner at Mallorca's La Almudaina Palace during their month-long stay.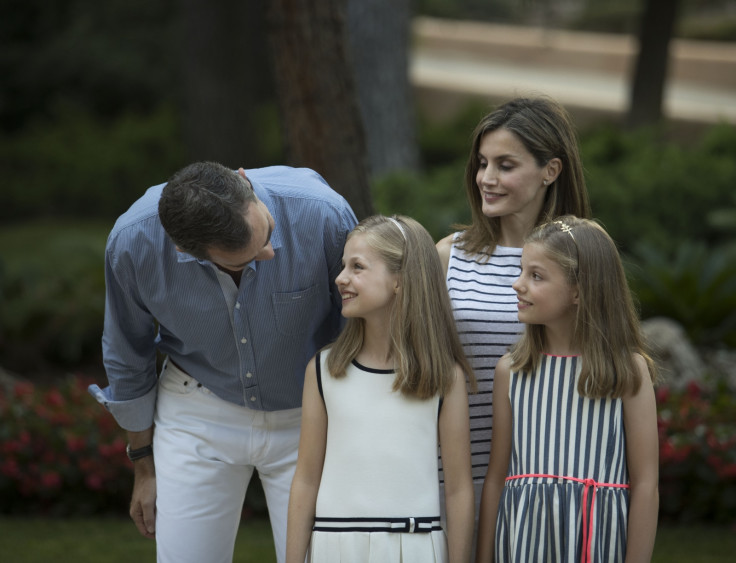 The king has been keeping busy with sporting activities during the vacation, attending the 35th Copa del Rey Regatta off the Mallorcan coast today (5 August) where he happily posed with the crew of Aifos sailboat.