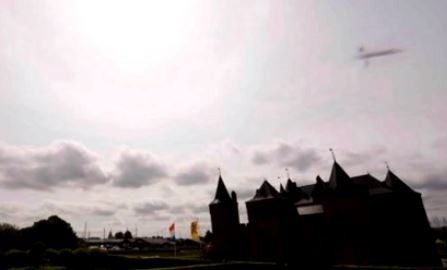 An Unidentified Flying Object accidently photographed last month above the skies of Muiderslot Castle, a medieval monument built in 1285 near Amsterdam in the Netherlands, set the internet abuzz this week.
After much speculation on the authenticity of the pictures, experts now suggest that though the video is "not fake" or doctored, there is perhaps an explanation to what can be seen in the picture.
The picture in question was clicked on 25 May by Corinne Federer who was visiting the historic building with her mother. Federer wrote in her blog that she was shooting the picture on High Dynamic Range when she came across the bizarre object.
"I was shooting with a very wide angle lens Nikon 14-24 which can capture quite a large scene. It was shot with a Nikon D800 with is a 36mp camera so also very detailed when blown up. I was also shooting HDR which means I was taking multiple exposures at once. In this case it was 5 exposures," 43-year-old Federer, wrote on her blog site.
Speaking further about what she saw, Federer told Huffington Post: "It was a tubular-shaped object that had an S-shaped fin on it. If it had been any type of missile, it would've had multiple fins, but facing the same direction. We heard nothing, it was completely quiet out. The more I flipped through the frames, it was kind of creepy."
"I looked at the image information -- at the shutter speed -- and (the object) was blurred at 1/250th of a second, so it had to be going superfast," she added.
Once Fedrer got back home, she adjusted the picture to boost the blacks and shadows so as to further clarify the mystery object.
When experts were questioned by Huffington Post regarding the video, it was confirmed that the pictures have not been tampered with.
"Having reviewed the raw files, there's no overt indication that the photos have been manipulated with post editing software," Ben Hansen, the lead host of Syfy Channel's "Fact or Faked: Paranormal Files," told Huffington Post. When asked what he thought of the object seen in the image, Hansen said it is perhaps an insect that we are looking at.
"We typically see many wing protrusions on insect rod cases, but they do come in the single pair variety, too. It all depends on the shutter speeds and motion of the insects." In fact, Hansen pointed out that in one of the images, on the right side of the sun, a disc-shaped object can be seen.
"I found another object. To the right of the sun, we see a slender, almost disk-shaped object that appears to have no protrusions. Hmmm," he said.
"When I look at the amazing photography which captures the night sky in long exposures, and you can see how many stars are out there, I think there's absolutely no way that we're alone," he added.
[Video Courtesy: YouTube/UFOvni2012]