After a dreadful first 24 hours at the Conservative Party conference in Birmingham - what with defections to Ukip, worrying opinion polls, and of course "Paisleygate" - delegates had slightly more cheering news today: the latest opinion poll puts them neck and neck with Labour for 2015.
The findings, announced with his usual fanfare by Conservative peer Lord Ashcroft and published at Conservative Home, puts both the Tories and Labour on 32%, with Ukip third on 17% and the Libdems in fourth on 8%. The poll also found a majority (54%) of those who revealed their preference would not change it before the day of the election.
One third of those asked (33%) pronounced themselves satisfied with the job being done by David Cameron, 29% were dissatisfied with his performance but still preferred him to Miliband, and just over a quarter - 26% - wanted Miliband as PM instead.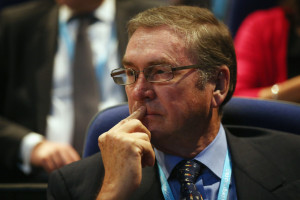 16% of voters thought the Libdems have too much influence within the Coalition, 33% say they have the right amount of influence and 40% said they do not seem to have enough influence. As Lord Ashcroft noted in his diary: "As I have found in other research, many people are glad [the Libdems] are there to temper the worst instincts of the Tories, but they struggle to name specific Lib Dem achievements."
The findings make happier reading for the Prime Minister in the final conference before the general election, and come in marked contrast to another set of polls announced by Ashcroft yesterday which appeared to show Labour was on course to win an overall majority in 2015.
The latest findings will concern Ed Miliband and the Labour Party, who seem unable to capitalise on the latest ructions within the Conservative Party over Europe. Perhaps most worrying of all for Labour, "Only two thirds of Labour voters (65 per cent) said they would rather see Miliband as PM."
The telephone poll was conducted over this weekend, before Chancellor George Osborne announced cuts of £25billion, including a freeze on benefits and public sector salaries should the Tories prevail in May. Whether Osborne's promises will induce more or fewer people to vote Conservative is another matter.
*1,000 adults were interviewed by landline and mobile phone on the weekend of 26-28 September.