Just when things couldn't get any worse for the Conservative Party, they just have.
Hot on the heels of the defection of backbencher Mark Reckless to Ukip – the second defection to Ukip in a month – and the resignation of Brooks Newmark, top party donor Lord Ashcroft has told the Tory party conference in Birmingham that Labour will win the next general election.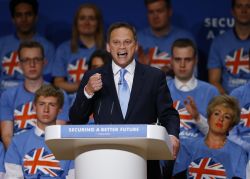 Speaking at a fringe event in the Conservative Home Marquee, on the first day of the party's conference in Birmingham, Lord Ashcroft said current trends show Labour could form an overall majority after next year's general election.
Ashdown warned that if the Tories lose 22 seats to Labour, Ed Miliband will become the next prime minister, and polls show that Labour is currently beating the Tories in 24 seats.
Ashcroft also discussed the threat posed by Ukip, who have tempted away both Reckless and Douglas Carswell.
At the conference's opening speech, party chairperson Grant Shapps said that Reckless had "lied and lied and lied again" before jumping ship, and had betrayed the entire Conservative Party. Later, Farage and Reckless were apparently harassed by local Tories in Rochester and accused of treachery.
At his presentation Ashcroft said the Conservatives are likely to lose at least two more seats to Ukip – not counting the two by-elections triggered by the Reckless and Carswell switches. Other Tories thought likely to switch their allegiance to Ukip include Adam Holloway and Phillip Hollobone.
More positively for the Tories, Lord Ashcroft also predicted possible gains for the Tories at the expense of their Liberal-Democrat coalition partners in a number of marginal seats, including Somerton & Frome, St Austell & Newquay, and Wells.
For Prime Minister David Cameron, who had expected a relatively straightforward conference having survived the Scottish referendum and easily winning Friday's vote to take military action in Iraq, the last 48 hours have been something of a nightmare.
As he said on TV earlier today: "I have to admit it has not been an ideal start."