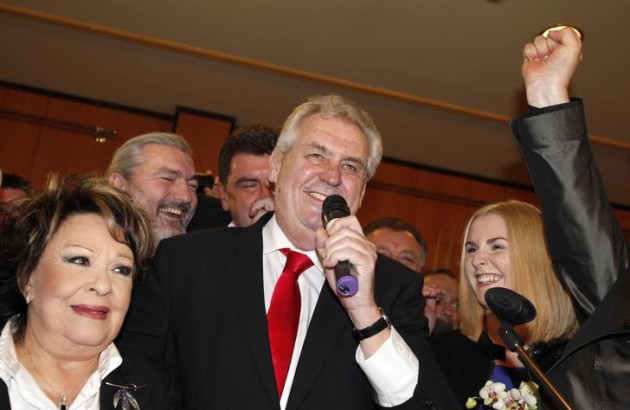 A left-wing former prime minister has become the Czech Republic's first directly elected president.
Milos Zeman, a 68-year-old who ran on a platform of closer integration with the EU, beat foreign minister Karel Schwarzenberg by 54.8 percent to 45.2 percent of the popular vote, results showed on Saturday 26 January.
Economist Zeman, who was a communist party member before the Soviet invasion of Czechoslovakia in 1968, has pledged to strengthen the country's ties with the EU following the presidency of Vaclev Klaus, who pulled the country to the fringes of the bloc.
The result comes after an often rancorous election, in which Zeman was attacked for his ties with Russia, while burly populist Zeman responded by associating his rival with unpopular spending cuts and austerity measures.
"I want to be president of the bottom 10 million. These include voters of Milos Zeman as well as Karel Schwarzenberg. I do not want to be president of mafias that act as parasites on this society," Zeman said.
The president was previously elected by the government, but a culture of backroom deal making lead to demands for direct elections, which were granted when the constitution was amended last year.
In the Czech Republic the president is not closely involved in day-to-day politics, but chooses senior members of the judiciary, the central bank and the civil service, and also represents the country abroad.
Zeman served as Social Democrat prime minister from 1998-2002, in coalition with outgoing president Vaclev Klaus.
During his term he boosted foreign investment in the country and privatised its banks, measures which paved the way for the country to join the EU in 2004.