New Global Illness Map Charts Countries' Most Fatal Diseases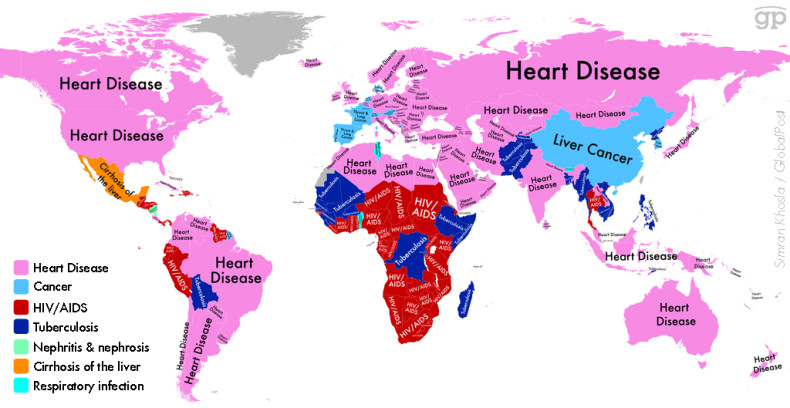 A new morbid map of the world with labels for the biggest killer diseases across several countries and continents shows just how easy it is to predict how the end will come.
The Global Post has drawn up the sobering chart by using World Health Organisation figures and labelled each country with the disease which kills the most people there.
Unsurprisingly, heart disease cuts a swathe through the planet's estimated 7bn people. It appears as the biggest killer across the world - from first world to third world countries.
Heart disease is the biggest killer in most of Europe, and surprisingly not cancer. This may be unexpected considering how high-profile cancer is in the UK, with charities warning that one in three will be troubled by a tumour at some point in our lives.
The exceptions include France, the Iberian peninsula, Austria and Switzerland - okay so it's not in the EU, but it is mainland Europe.
In these countries cancer tops the morbid league table of doom, with lung and throat cancer the most common killers. This also applies to the Netherlands and Denmark.
But is it a case of too many cigarettes, compared to too much junk food - or a sign of differing healthcare priorities among sovereign governments?
The red colour that blankets most of Africa signifies the continuing toll of HIV/AIDS on communities, despite the progress made in combating the spread of the deadly infection and in treatments to keep it at bay for those already infected.
Thailand is the only Asian country where the disease causing the most deaths is HIV/AIDS. Not far away in China, they are stalked by the spectre of liver disease, the most common killer.
Heart disease is also the top killer in less developed nations like India and in southeast Asia, Oceania and in Russia.
Tuberculosis keeps a stranglehold on Pakistan, parts of north and central Africa.
Mexico stands apart from the rest of the world in the killer diseases league by being the only place where you are more likely to die of cirrhosis of the liver - aka drinking too much. Mexico may be the place to go for those looking to have a good time dying.