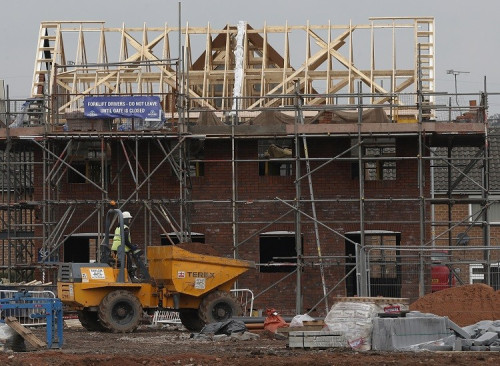 Britain's construction sector is building the most new homes in almost four years, according to the Office for National Statistics.
During December, the output volume of new housing work hit its highest since January 2010. Across the whole of 2013, new housing output increased by 10.4%.
It comes as house prices soar amid efforts to make mortgages cheaper under the Help to Buy scheme and a strengthening economic recovery in the UK.
The ONS reported a 5.4% rise in UK house prices in the 12 months to November, which it said "may be a contributing factor to the recent growth of new housing construction output."
Under Help to Buy, the government offers a mixture of guarantees for banks on their mortgage lending and an interest free equity loan for first-time buyers worth up to 20% of a property's value.
This stimulus package has brought down mortgage rates and deposit requirements for home buyers. The Bank of England said mortgage approvals were near a six year high during December.
The government hopes the scheme will incentivise construction firms to build more homes as the housing market recovers off the back of rising demand.
The volume of new homes registered with the National House Building Council (NHBC) hit 133,670, up 28% on the year before and the most since 2007.
Critics of Help to Buy say it risks inflating a housing bubble because prices are rising while credit is cheap, incomes are falling in real terms, the Bank of England is holding interest rates at abnormally low levels, and supply is severely constrained.
However others argue there is much slack in the housing market with prices in many areas still well below their pre-crisis peaks and historically subdued mortgage approval levels.
The Institute for Fiscal Studies (IFS) calculates that, on average, UK house prices are 9% below their pre-crisis peak in nominal terms and 25% below in real terms.
"On balance, the data currently available do not provide clear evidence of a housing bubble, even in London – though the likelihood of a bubble is greatest there," said the thinktank in a report.