Google's new Nexus 7 (Wi-Fi only) has finally been released in the UK, following its launch in July at a media event in New York City. ASUS had recently confirmed the tablet's UK release date for 28 August and that has turned out true.
Price and Availability in UK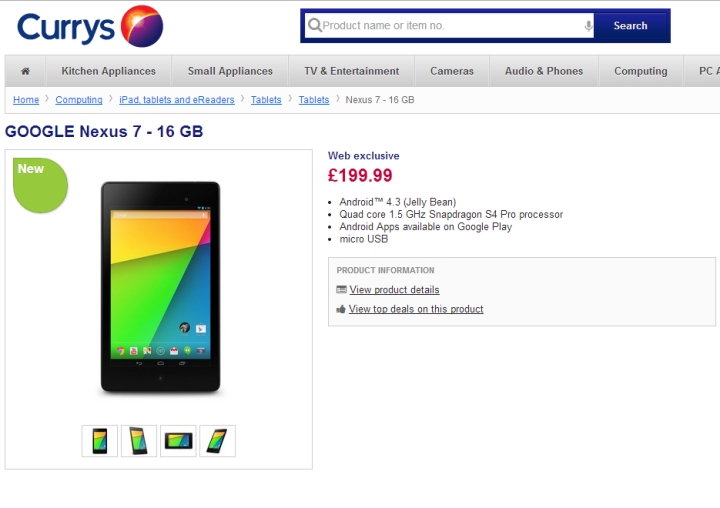 Following the US launch, the new Nexus 7 (Wi-Fi only) is now available for purchase in two variants, namely the 16GB at £199.99 and 32GB at £239.99, via Google Play Store in the UK. The Google flagship tablet is also available in several other countries including Japan, France, Germany and Spain.
As expected earlier, both 16GB and 32GB versions of the tablet are also available for sale in the UK via PC world and Currys starting at midnight (local time) on 27 August. Currys and PC World are also offering a few exclusive discount offers on select items, when you buy the new Nexus 7 or any other tablet.
The 16GB variant of new Nexus 7 may also be purchased at £199.38 via the UK site for ebay, which offers express shipping service by 30 August (for all orders placed on 29 August).
Price and Availability in Other Countries
Those purchasing the tablet in Europe including France, Germany and Spain will have to shell out €229 for the 16GB model, while the 32GB variant costs €269.
Google is also expected to release its 7in flagship tablet in Korea and Australia in the next couple of weeks.
Prospective tablet buyers in Japan can now purchase the new Nexus 7 16GB tablet at ¥27, 800 and 32GB version at ¥33,800, which is a bit pricier than its predecessor.
New Nexus 7 Features
The second generation Nexus 7 packs a powerful hardware configuration: a Qualcomm Snapdragon S4 Pro processor with four Krait cores clocked at 1.5GHz and paired with an Adreno 320 GPU, 2GB of RAM, 16/32GB of internal memory and a 3950mAh non-removable battery.
Other key features include a 1.2 megapixel front camera for video calls and a five megapixel rear camera with 1080p video recording capability at 30 frames per second (fps).
New Nexus 7 LTE Price and Availability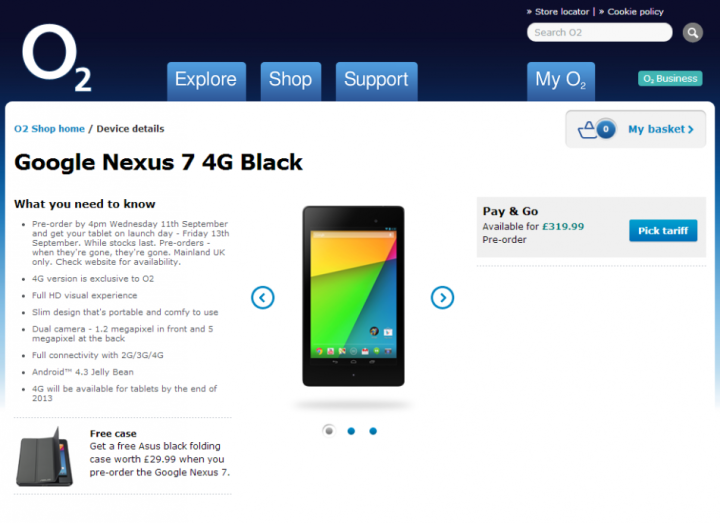 In related news, the new Nexus 7 LTE (4G) is expected for UK release on 13 September, while Japan is likely to get it in mid-September; according to a recent O2 press release. The Nexus 7 LTE has a price tag of £319.99 and will be available for pre-order via O2 starting 29 August. Get a free ASUS black folding case worth £29.99 with every Nexus 7 (LTE) pre-order via O2.
O2 has further confirmed that it will have exclusive availability for 4G-Ready Nexus 7 at launch in September. In other words, O2 will get the device first following its launch.
"The new Nexus 7 is a fantastic way to experience Android, whether you're using it for the first time or have used it before," said David Johnson, General Manager Devices for O2 in the UK.
"The brilliant screen and fast 4G connectivity will make surfing, gaming and using Google services on the Nexus 7 an absolute joy," he adds.
ALSO READ: Galaxy Note 3 Pre-orders on Three UK to Start on 16 September