New Orleans: Lawyers of millionaire murder suspect Robert Durst attempt to have charges dropped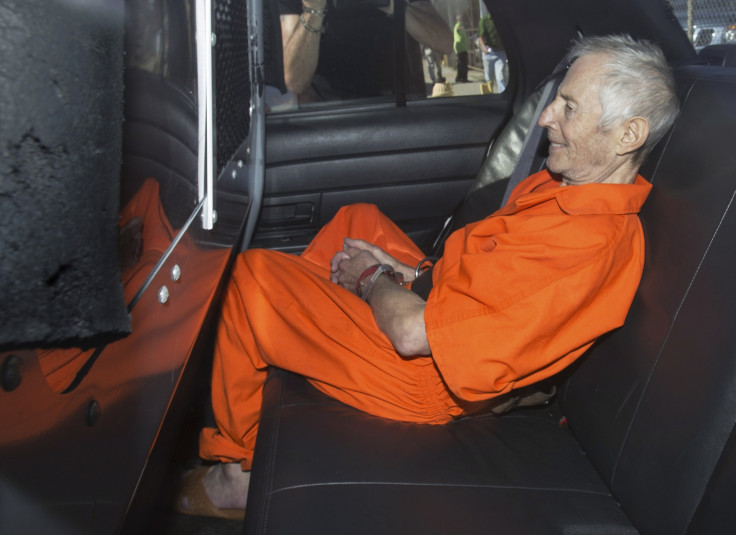 Robert Durst, the accused millionaire murder suspect who was arrested following an HBO documentary, appeared at Orleans Parish Magistrate Court in Louisiana on 2 April. The court appearance is for a preliminary hearing on his state weapons arrest, NOLA.com reported.
Durst was arrested on 14 March at the J W Marriott hotel in New Orleans by FBI agents on behalf of California authorities. According to NOLA.com, the 71-year-old was arrested on charges of illegal possession of a firearm by a felon and possession of a firearm in the presence of a controlled dangerous substance. Investigators found a .38 revolver and marijuana, the LA Times reported.
However, the New York real estate heir's lawyers will attempt to argue the FBI agents searched his hotel room illegally. The Columbus Dispatch reported his Houston-based lawyer, Dick DeGuerin, filed a motion on 31 March stating FBI agents "rummaged" through the hotel room without a warrant before Durst was arrested.
Durst also faces a murder charge in California for the death of his friend and spokeswoman Susan Berman in 2000. After she died, it was revealed Berman was wanted for questioning by former Westchester District Attorney Jeanine Pirro's office about Durst's involvement in the 1982 disappearance of his first wife.
The lawyers are requesting the judge subpoena Pirro, who now works for Fox News Channel. According to the LA Times, the lawyers want Pirro to testify she did not request an interview with Berman before the murder.
The suspect, who has waived extradition to Los Angeles, is also suspected of being connected to at least three other murders. He was recently the subject of a six-part HBO documentary series called The Jinx: The Life And Deaths Of Robert Durst."
© Copyright IBTimes 2023. All rights reserved.