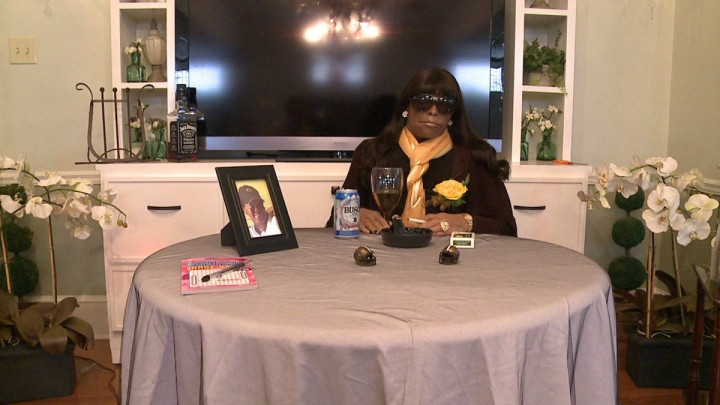 The family of a woman in New Orleans have found an unusual way to capture her "zest for life" even after she died.
The wake for Miriam "Mae Mae Burbank" was literally a celebration of her life, complete with disco balls, beer, bourbon and Miriam herself in attendance as guest of honour.
The family arranged for Miriam's body to be arranged seated at the party at the head table with a cold beer and a cigarette in her hand.
She was dressed – including painted nails – in gold and black, the colours of her beloved American football team, the New Orleans Saints.
Her family said Miriam was a notorious party-goer. "She gets down. She's not a normal 53," said Zymora Kimball, one of Burbank's daughters. "I didn't want her to just go. I had to do something amazing so she's never forgotten."
The funeral was arranged by Charbonnet Labat funeral home. "They said they didn't want a traditional religious type service," Funeral Director Lyelle Bellard said. "She was just one of those people that just enjoyed life enjoyed living, just enjoyed people. We celebrate life. We celebrate the passing. We celebrate the home-going of people."
The unusual service divided opinion among Miriam's friends and family members. "When I walked in, I feel like I was in her house and I didn't hurt so much," sister Sherline Burbank said. "Because it's more of her, and it's like she's not dead. It's not like a funeral home. It's like she's just in the room with us."
But Kimball said: "A lot of people didn't accept what I was doing. I didn't let that stop me, and I know she's happy with how she's looking. That's her, that's Mae."
"I think it's amazing, for him to capture someone's actual life, their life-style, the way they lived. It's something new and trending and I think it's a good way to cross over," family friend Lisa Moore said.
Non-traditional send-offs are becoming increasingly popular in the US. Another funeral home arranged for New York socialite Mickey Easterling to "attend" her own wake, seated on a bench with a cigarette and a glass of champagne.