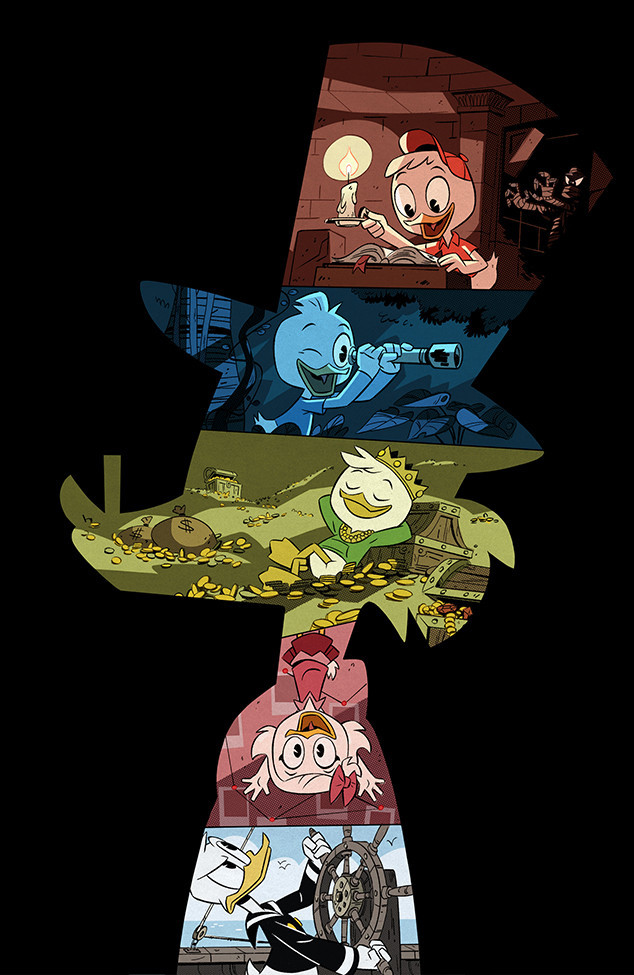 Scrooge McDuck and his mischievous grandnephews Huey, Dewey and Louie are returning to the small screen. A poster released by Disney XD has offered a first look at the popular cartoon characters along with the iconic Donald Duck.
Uncle Scrooge's grandnephews have got a facelift for the reboot, however, their mischievous and ever-adventurous eyes remain the same. The poster also gives a glimpse of Donald Duck and Mrs. Bentina Beakley's sweet granddaughter Webby.
The first look of Uncle Scrooge and many other important characters are yet to be revealed by the network and it appears fans need to wait for the DuckTales panel to appear at SDCC for more scoops and pictures, and possibly a teaser for the highly anticipated revival series.
The new teaser art for the series appears on DuckTales Cinestory Volume 1, a comic book that narrates the first five episodes of the old series which premiered in 1987. The book was released on 20 July and will be available in the US from 27 September, E!Online reported.
Annie Award nominee and Ben 10: Omniverse director Matt Youngberg will executively produce the 2D animated series. Gravity Falls veteran Sean Jimenez will be the art director for the series and Francisco Angones will join the crew as the story editor and co-producer. Disney promises the show's "new adventures will once again take worldwide viewers on high-flying adventures".
The reboot of the show was announced in 2015 with a promise to bring back the nostalgic memories of the 80s and 90s with the same adventures of Uncle Scrooge and his clever grandnephews.
"DuckTales has a special place in Disney's TV animation history, it drew its inspiration from Disney Legend Carl Barks's comic books and through its storytelling and artistic showmanship, set an enduring standard for animated entertainment that connects with both kids and adults. Our new series will bring that same energy and adventurous spirit to a new generation," Marc Buhaj, senior vice president of programming and the general manager of Disney XD, said in a statement in 2015.