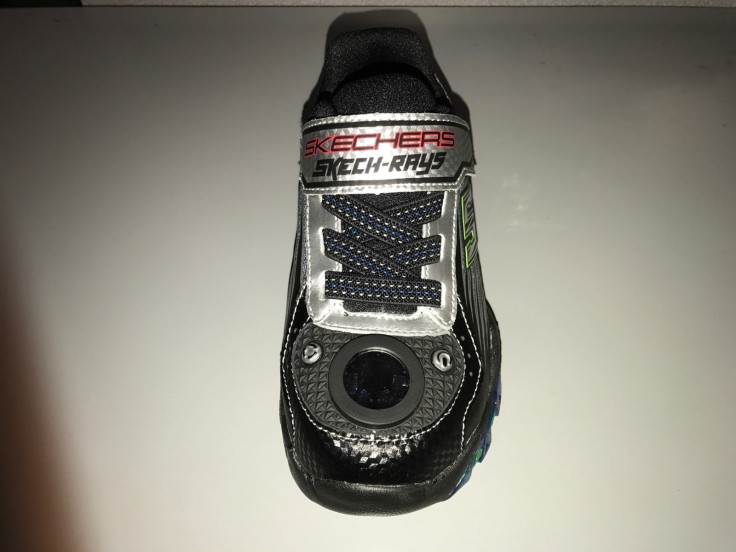 A new pair of trainers designed by popular footwear brand Skechers has sparked outrage among parents who claim the "inappropriate" shoes allow young boys to look up girls' skirts.
The shoes are only available in childrens' sizes. The 'Skech-Rays' for boys have a space-themed design with their black and silver laces and the shiny mirrors on the tip of each shoe. The girls' variant of the shoe does not have a mirror on the toe.
Parents have reacted furiously to the design, claiming that the shoes could victimise young girls as boys are able to see up their skirts with the mirrors.
One concerned parent, Kyle Dropik, came across the shoes while shopping with his daughter at a Skechers outlet in San Antonio, Texas. He was appalled to see that the shoes had mirrors on the toes and took to Facebook to express his disgust.
"Having a daughter, it greatly disturbs me to see that Skechers has made boys shoes with mirrors on the toes. These need to be removed immediately. Please share as much as possible until these shoes are removed from stores," he wrote, sharing a picture of the trainers.
Other parents also expressed outrage. "When I was a kid, little boys tried to look up my skirts. This is absolutely a huge problem. Horrible design for children," Kayla Whitaker wrote.
Others thought Dropik and fellow critics were overexaggerating.
"Leave it to adults to over sexualize everything. These are light up shoes. The so-called mirrors are lights. It's pretty sad that a child wouldn't see these shoes as nothing more than entertainment value but an adult goes all crazy," Michael Jammer commented underneath Dropik's post.
Mother Amber Iglehart also didn't understand the fuss: "My son, 5 years old, wanted these 'because they look so cool' and I doubt when he saw them that was something that crossed his mind. People like to make something out of nothing."
Skechers did not respond to a request for comment.