Police have released images of a man they want to speak to in connection with the bomb blasts that occurred in New York and New Jersey over the weekend.
Ahmad Khan Rahami, 28, is wanted in connection with the blast that occurred in the Chelsea neighbourhood in Manhattan, which injured 29 people as well as an explosion in the Seaside Park area of New Jersey.
New York Mayor Bill de Blasio warned that the suspect could still be "armed and dangerous" following the explosive devices detonating on 17 September.
"We need to get this guy in right away," de Blasio told CNN. "My experience is once the FBI zeroes in on someone, they will get them."
The explosive device in Chelsea was described as a pressure-cooker bomb packed with shrapnel. A similar, unexploded device was also found close to where the Chelsea explosion occurred later the same night. Homemade pressure cooker bombs were used in the 2013 Boston Marathon attacks which left three people and injured more than 260.
Earlier that day, a pipe bomb placed on the route of a charity race detonated in the vicinity of Ocean Ave in Seaside park area of New Jersey. No one was injured as the road was empty at the time, but the event was cancelled. Police have connected the New York City and New Jersey bombings and say the same suspect is being sought for both incidents.
Five suspicious devices were also found in a backpack near a New Jersey train station, one of which accidentally detonated as police tried to disarm it with a robot.
No one was hurt in the blast in Elizabeth, New Jersey – around 15 miles (24km) away from Manhattan – but Mayor Christian Bollwage said: "I can imagine that if all five of them went off at the same time, that the loss of life could have been enormous if there was an event going on."
Bollwage added the devices were found in a rubbish bin by two men who reported seeing wires and a pipe coming out of the package.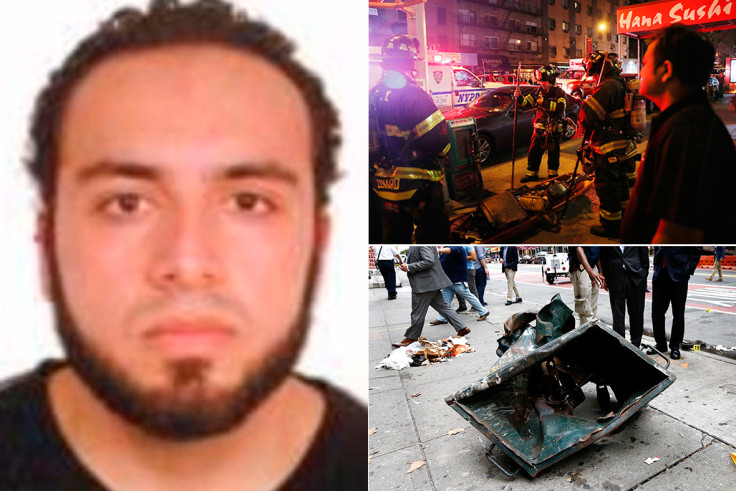 A statement on the FBI website reads: "The FBI is asking for assistance in locating Ahmad Khan Rahami. Rahami is wanted for questioning in connection with an explosion that occurred on September 17, 2016, at approximately 8:30 p.m. in the vicinity of 135 West 23rd Street, New York, New York.
"Rahami is a 28-year-old United States citizen of Afghan descent born on January 23, 1988, in Afghanistan. His last known address was in Elizabeth, New Jersey. He is about 5' 6" tall and weighs approximately 200 pounds. Rahami has brown hair, brown eyes, and brown facial hair."
New York governor Andrew Cuomo has also said he believes the Manhattan bombing could be an act of terrorism with a "foreign connection".
US president Barack Obama has yet to make a public statement on the attacks. However, Democratic presidential hopeful Hilary Clinton said: I strongly condemn the apparent terrorist attacks in Minnesota, New Jersey, and New York.
"I pray for all of those who were wounded, and for their families. Once again, we saw the bravery of our first responders who run toward danger to help others. Their quick actions saved lives.
Republican nominee Donald Trump also said via Twitter: "Terrible attacks in NY, NJ and MN this weekend. Thinking of victims, their families and all Americans! We need to be strong!"
Trump had previously took to social media to say how the attacks were "proof that Obama/Hillary Clinton policies won't keep us safe".
Update: Suspect Ahmad Khan Rahami arrested following police shoot-out