New York Mayor Bill de Blasio has called on New Yorkers to "be vigilant" following Saturday's (17 September) bomb blast that injured 29 people in Manhattan.
Speaking at a press conference at New York's police headquarters, he called for patience in order to get to the "full truth" and said he would not "jump to conclusions" regarding the attack.
He also confirmed that the 29 people who were injured in the attack had all been released from hospital and were expected to make a full recovery.
Last night's blast, which is thought to have been centred in a rubbish bin, happened at 8.30pm local time on 23rd Street, between 6th and 7th Avenues.
Police also discovered and defused a second device nearby in the Chelsea district of Manhattan.
Mayor de Blasio said: "One of the things we will say is that we are going to be very careful to get to the full truth, we are not going to jump to conclusions, offer you easy answers, we are going to make sure we have all the facts.
"We know there was a bombing, that much we do know.
"We know it was a very serious incident but we have a lot more work to do to be able to say what kind of motivation was behind this – was it a political motivation? Was it a personal motivation? We do not know yet.
"That work must go on and we're going to give you regular updates as we get more information."
He also praised New Yorkers for their "incredible resiliency" in facing last night's "challenges".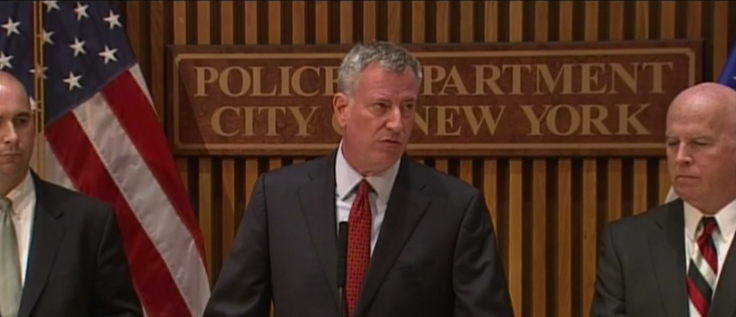 However, he urged residents to remain vigilant saying: "Be vigilant at this point in time, not just because of this incident, but going into the United Nations General Assembly.
"Be vigilant because the police need your help and if you see anything that might be pertinent to this case, we need you to call it in."
He also sought to reassure and spoke of the increased police presence on the streets.
"You should see a very substantial NYPD presence this week – bigger than ever – we would normally have an expanded presence for the UN General Assembly and you will see an even stronger presence now," he said.
"That capacity that we've built, in response to events we've seen around the world, gives us the strongest anti-terror capacity in the country and it will be fully in use this week."
He delivered a final rallying line to bolster residents who may be feeling anxious following last night's terrorist attack.
He said: "New Yorkers as always are not intimidated, it is part of who we are, we'll go about our business and help police to do the job."
Police Commissioner James O'Neill also called for patience during the press conference and confirmed there were two open crime scenes still being investigated in the Chelsea area.
He said: "We've talked about this over the last two years how we foiled 20 plots in New York and that was done by very professional highly trained law enforcement agencies, and this violent criminal act is going to be solved by those very same people.
"New York residents can rest assured that we are going to get to the bottom of this. Right now we're not discounting anything and again we're in the process of a complex investigation to determine who did this and why they did this.
"When we finally make that determination we'll let everybody know," he said.