US bombings: What we know so far
Two locations were bombed over the weekend in attacks described as deliberate.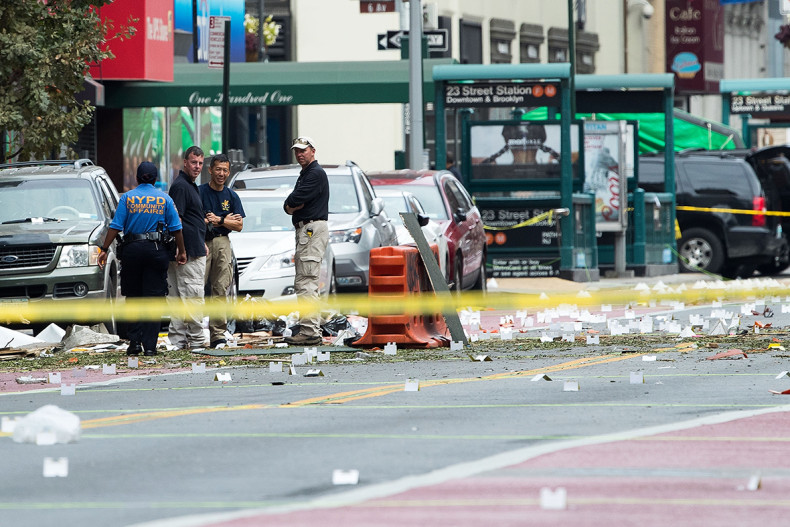 The US authorities are investigating two bombings in the Chelsea neighbourhood of New York City and Seaside Park, New Jersey, that took place this weekend. Although no links to terror groups have yet been established, the authorities are looking into all possibilities, with the attacks described by New York Mayor Bill de Blasio as "intentional".
"It was a violent act, it was certainly a criminal act, it was a bombing," he said, avoiding using the word "terrorism".
Today (19 September) police also found a backpack with "multiple" explosive devices in it at Elizabeth Train Station in New Jersey, one of which exploded as the authorities were attempting to make it safe. No one was injured in the blast.
As the investigations into the attacks are ongoing, here's what we know so far:
No one has yet claimed responsibility for either attack, but the possibility the two were linked is being investigated
The attacks came following a stabbing in a Minnesota mall that left nine injured and which Isis has claimed responsibility for, although the authorities are yet to confirm this
The bombings have not yet been declared "acts of terror" although the authorities are investigating this as a possibility and have stated they were deliberate
The explosion in Seaside Park, New Jersey, happened at around 9.30am on Saturday (17 September)
The New Jersey explosive device was a pipe bomb planted in a bin close to the route of a Marine Corps charity run
There were two other devices found with the one that exploded, but two of them did not detonate
The pipe bombs were controlled by mobile phone, and it is thought whoever made them had limited experience given that two did not detonate
The Marine Corps charity run was cancelled following the explosion. The pipe bomb would have detonated in the middle of the race had it not been delayed at the beginning

In the course of rendering one of the devices safe, it detonated. There are no injuries & law enforcement personnel are at the scene....

— FBI Newark (@FBINewark) September 19, 2016

No one was injured in the New Jersey explosion

Following the Saturday explosion a bag of devices was found in a New Jersey train station on Sunday evening, with one device detonating as authorities attempted to disarm it, but no injuries were reported
The explosion in New York on Saturday (17 September) happened hours after the New Jersey explosion, at 8.30pm in lively Chelsea, an area popular with the LGBT community
The Chelsea bombing involved a homemade bomb made from a pressure cooker and attached to a mobile phone, which was then placed under a street bin
A second device was found on West 27<sup>th Street in Chelsea – four blocks from the West 23<sup>rd Street explosion


There were 29 people injured in the Chelsea bombing with no fatalities
The second device was made safe by the bomb squad, who removed it from the area and took it for inspection
A car carrying five people was stopped in connection with the New York explosion and those people are currently being questioned, although no one has been charged as yet
Donald Trump commented on Twitter of the weekend's attacks: "Saturday's attacks show that failed Obama/Hillary Clinton polices won't keep us safe! I will Make America Safe Again!"
Hillary Clinton said in a statement about the attacks: "I strongly condemn the apparent terrorist attacks in Minnesota, New Jersey, and New York. I pray for all of those who were wounded, and for their families. Once again, we saw the bravery of our first responders who run toward danger to help others. Their quick actions saved lives. Law enforcement officials are working to identify who was behind the attacks in New York and New Jersey and we should give them the support they need to finish the job and bring those responsible to justice - we will not rest until that happens."