New York police officer Daniel Pantaleo will not face charges over the death of 43-year-old black man Eric Garner in New York in July, even though he was filmed applying what looked like a chokehold as Garner was pinned to the ground saying he couldn't breathe.
Garner was being arrested for the minor misdemeanour of selling loose cigarettes, and appeared to be resisting arrest when police hauled him to the floor. A medical examiner ruled his death was due to "the compression of his chest and prone positioning during physical restraint by police", but said there were other contributory factors including asthma and heart disease.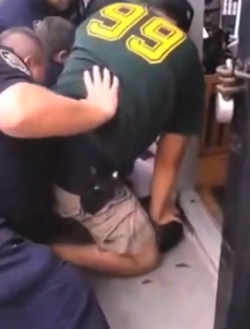 Police unions denied Pantaleo used the illegal chokehold and dismissed the ruling of the medical examiner as a political witch hunt.
A special grand jury in Staten Island voted a "no-bill" and cleared Pantaleo on all charges relating to the death. The panel had started investigating the racially-charged case in September. It is unclear what charges were being considered by the jury and the proportion who voted either way. The Garner family are said to be preparing to sue the city for up to $75m. Family lawyer Jonathon Moore expressed his astonishment at the decision.
The Garner case once more puts the issue of race and policing under scrutiny in the US. The acquittal of Pantaleo comes a week after a similar decision was made in the case of Officer Darren Wilson who shot dead unarmed 18-year-old Michael Brown in Ferguson, Missouri. That led to some of the most serious race riots in the US since the acquittal of police who beat Rodney King in 1992.
US President Barack Obama last week launched a special task force to try and tackle some of the underlying issues of policing in black communities, and said he was asking for Federal funding to ensure officers wear body-cameras.