New York primary results: Hillary Clinton and Donald Trump win in the Empire State
Presidential campaign frontrunners Donald Trump and Hillary Clinton took a big step toward securing nominations from their parties after both emerged victorious from the New York primary on 19 April. The expected wins push the two ahead of their rivals and give their campaigns another boost ahead of the 26 April primaries in a number of states.
With over 80% of the precincts reporting, the former secretary of state led rival Bernie Sanders by more than 15 points. On the Republican side, Trump surged past John Kasich and Ted Cruz to lead by more than 35 points.
Republicans
The Republican race was the first to be called, with the Associated Press declaring Donald Trump the winner promptly at 9pm EDT (2am BST), when the polls closed. With 92.5% reporting, Trump lead with 60.2% of the vote. Ohio Governor Kasich followed not so closely behind with 25.1%, while Texas Senator Cruz lagged behind with 14.7%.
In New York, Republican delegates are allocated on a proportional system. However, with Trump's large margin lead, he is predicted to take home the majority of the 95 delegates available in the state.
Preliminary allocation revealed Trump took home at least 84 delegates, while Kasich was given two. Cruz, on the other hand, did not receive a single delegate from the Empire State.
Trump continues to dominate in delegate count with 840 delegates, followed by Cruz with 559 and Kasich with 146. The remaining three candidates will face off in one week for the 26 April primaries in Connecticut, Delaware, Maryland, Pennsylvania and Rhode Island.
The candidates have five races left in May and another five more in June. The Republican Convention will be in July in Cleveland, Ohio.
Democrats
The Democratic race was too close to call soon after the polls closed, but was finally called for Hillary Clinton at 9.45pm EDT (2.45am BST). With 92.5% reporting, Clinton led Democrats with 57.6% of the vote. Not far behind was her chief rival, Vermont Senator Bernie Sanders with 42.4%.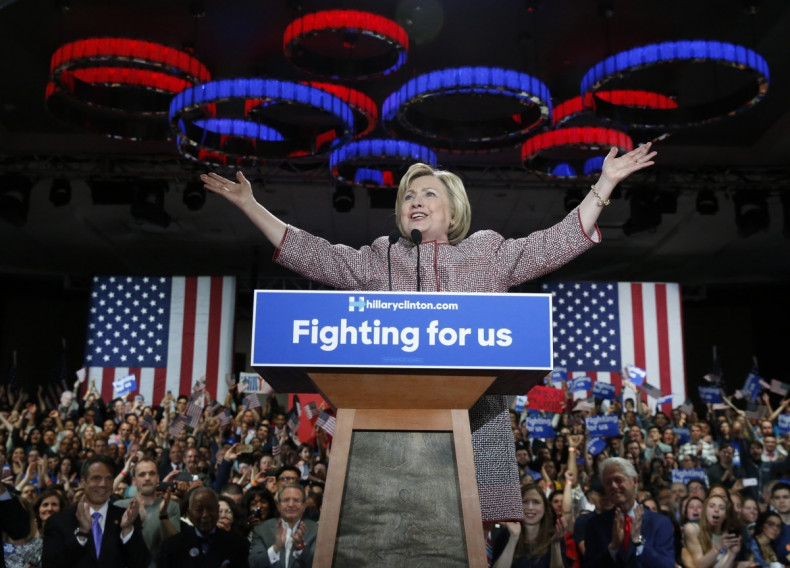 Democratic delegates in New York are also awarded proportionally. Clinton's lead earned her at least 129 of the 247 delegates available to Democrats. Sanders meanwhile has earned at least 98 delegates.
The crucial win furthered Clinton's lead to 1,393 pledged delegates (1,862 with superdelegates), while Sanders pushed forward to 1,130 pledged delegates (1,161 with superdelegates considered).
Like their Republican counterparts, the two lone Democratic candidates will face off in Connecticut, Delaware, Maryland, Pennsylvania and Rhode Island on 26 April. They will then have four more races in May and seven more in June. The Democratic Convention will be in July in Philadelphia.