New Zealand Police have found £7.5m ($10m) of cocaine hidden inside a diamante horse head flown into the country from Mexico. The cocaine, packed in 35 1kg bricks, was found when police became suspicious of the 400kg ornament decorated with brown, black and gold diamante sequins which arrived from Mexico in May.
The drugs haul is vast by New Zealand standards, where in 2015 a total of 1.5kg of cocaine was seized in the whole year. Importation of Class A drugs carries life sentence in New Zealand.
Three people have been arrested in connection with the discovery. Two arrests were made at Auckland International Airport on Friday, 1 July, where a 44-year-old Mexican and a 56-year-old US man were arrested as they tried to board a flight to Hawaii. On Saturday a 29-year-old Mexican was arrested in Christchurch, the scene of the 2011 earthquake which killed 185.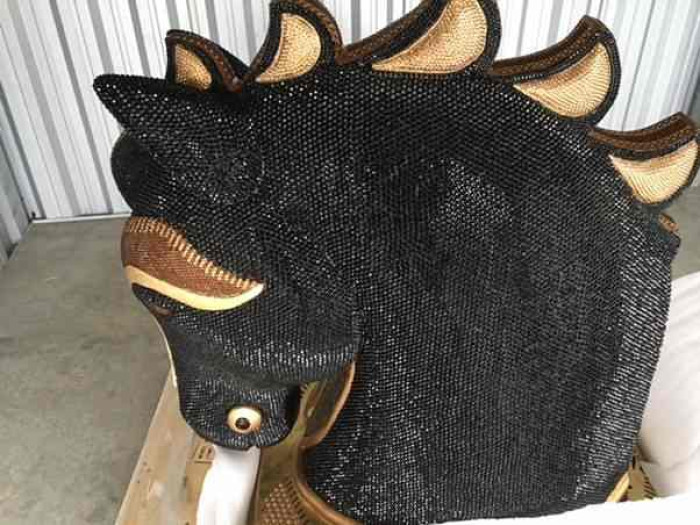 Auckland Police also released images of another man they wish to speak to in connection with the seizure. The man was seen on CCTV leaving a hotel in Auckland on Friday. The man is believed to speak with a Spanish-sounding accent.
One theory is that the drugs were destined for Australia, which has a far larger potential market. However, Detective Superintendent Virginia Le Bas from the organised crime unit said an influx of workers who had gone to help rebuild Christchurch may have been the target. Use of cocaine in the city had risen since the earthquake, she told The Telegraph.
Auckland Detective Senior Sergeant Colin Parmenter said: "This is obviously an extremely large amount of cocaine and in the past we've only found very small amounts of this drug. What this find tells us though is that there is obviously a demand for it. While it's possible that this statue may have been sent on to another country… there's every possibility that the cocaine was destined for the New Zealand market and we would be naive to think otherwise."