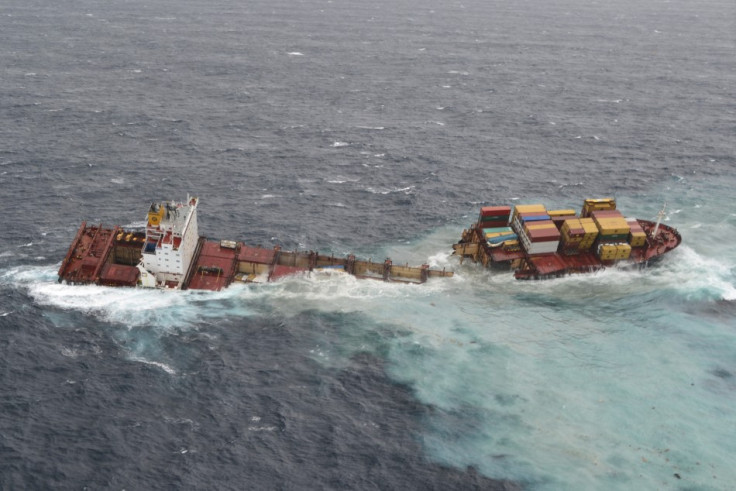 The New Zealand Rena cargo shipwreck which caused a huge environmental disaster has landed two officers, including the captain of the ship, in jail for seven months.
Captain Mauro Balomaga and another officer Leonil Relon, both Filipinos, pleaded guilty to mishandling the ship and were sentenced to seven months each on Friday in New Zealand.
Both officers were in-charge of the Liberian-flagged Rena and did not speak much during the trial. Prosecutors were demanding at least two years of jail for the pair.
They were accused of ignoring even the basic navigation practices and deviated substantially in order to reach the port by a shortcut.
They also pleaded guilty to willfully altering the ship's documents after the vessel ran aground causing a huge maritime spill in October 2011.
Several hundred tonnes of oil leaked killing thousands of birds and contaminating the beaches.
The wreck split the vessel into two and both halves remain on the reef - the bow still perched above water and the stern almost completely submerged.
The jail term was hailed by New Zealand officials. "This grounding has had significant consequences for the Bay of Plenty community and the country as a whole. Today marks a milestone in the response, which is still under way," said Maritime New Zealand director Keith Manch, according to the BBC.
The Greek-based Daina shipping, the owner of the vessel, has also been charged for discharging harmful substances from ships.
Colin Reeder who was representing the local Maori community in the Bay area which was badly affected by the disaster said the people have forgiven the men.
"They were only one cog in the machine that caused this disaster. We'd rather direct our anger and rage at the system that allowed this to happen. The two men made a mistake that was generated by the need to save time. The route cause must be fixed as the potential for disaster will still be there," ABC News quoted Reeder as saying.
The government estimated the clean-up cost at around NZ$130 million (£68 million).