Newcastle United managing director Derek Llambias says the club can't throw money at attempting to compete with the likes of Manchester United.
The Magpies signed six players in the January transfer window in Mathieu Debuchy, Moussa Sissoko, Mapou Yanga-Mbiwa, Yoan Gouffran, Massadio Haidara and Kevin Mbabu, to assist with the club's attempts to escape relegation.
The sale of Andy Carroll in January 2011 and the addition of first Virgin Money and then Wonga as chief shirt sponsors have helped finance the deals, but Llambias says the club can't afford to continue spending in order to bridge the gap to Premier League leaders United.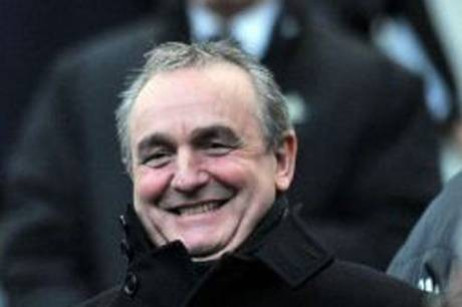 "Take the naming rights, for example. It's such a contentious issue - we understood that but what we were trying to do was bring a player onto the pitch," Llambias said.
"Look at Sissoko, the naming rights have helped pay for him. That's money we didn't have. If you look at it - (we've signed) Sissoko and it (the name of the stadium) is now back to St James' Park.
"That wasn't bad business. It is what it is, it's the future. Our size of club just can't compete with the Chrysler deals (Manchester United). We just can't do it.
"We don't have that global reach yet. Over the next few years we need to expand into that market and that's really what our concentration is. How do we build that global market?
"That's about bringing in different partners and getting our brand out there a little bit more. Worldwide we have three-and-a-half million fans, Man United have 350million and sell 1.2million shirts.
"That's what it is - the reality is there's massive gaps between us and them. How do we close that gap? We don't get there by throwing money at it because we can't.
"We haven't got enough money so we have to get there by building slowly, building solid foundations. The club is always going to be safe, financially safe. It's got to be like that."
Without a major trophy since 1968 Fairs Cup, The Magpies are yearning for some silverware, among Newcastle's main aims according to Llambias, despite the club hoping to compete with the division's high flyers.
"We always said we had a five-year plan," he added. "We feel this season may have put us back a little bit, but I think we've now worked our way through that. I would say we are a couple of years away from absolutely having a really, really strong squad with the depth we need.
"A trophy for (manager) Alan (Pardew) would be just incredible. The FA Cup is his dream for this club. For us a trophy would be a dream. Mike and I would love a trophy, for sure we would. We'd also love to challenge those big boys though.
"When you look at last season it was exciting for us sitting there and thinking, 'If we'd won that game we'd be third and if we won that game we'd be fourth and then thinking how it would feel if we'd have been pushed out of that Champions League place by Chelsea'.
"We are building. Can I say we'll be challenging the top four in two or three years? I can't say that because football's a strange sort of world and plenty of things can happen. Top clubs fall down, they might not be investing as much or somebody else might do something which transforms a club's fortunes. I would hope in two years' time we'll have an even more exciting squad."
After another transfer window dominated by players coming in from France, the club's reputation for signing players from across the English channel and therefore rejecting those on home shores has swelled.
Llambias says such is the price of British players, the club are happy to delve into the French market.
"At the end of the day it is a market which excites us," he said. "We have to explore other markets, though, which we do. We are still going to other markets.
"We keep an eye on the UK market too. British players are very expensive, which is a factor for us."