Wigan chairman Dave Whelan insists that Callum McManaman made a fair challenge on Massadio Haidara when Wigan played Newcastle at the weekend, as the FA mulls over whether to give the forward a lengthy ban after the referee missed the incident.
Haidara was stretchered off after the tackle, and John Carver was sent off after the Toon assistant manager confronted McManaman at half time over his actions.
And Whelan has defended manager Roberto Martinez's claim that the tackle was not malicious, insisting it was simply an accident.
"Can I say to the Newcastle player that I hope you're soon well and hope you don't miss any matches, it was a pure accident and so we wish you a speedy recovery," he told Sky Sports.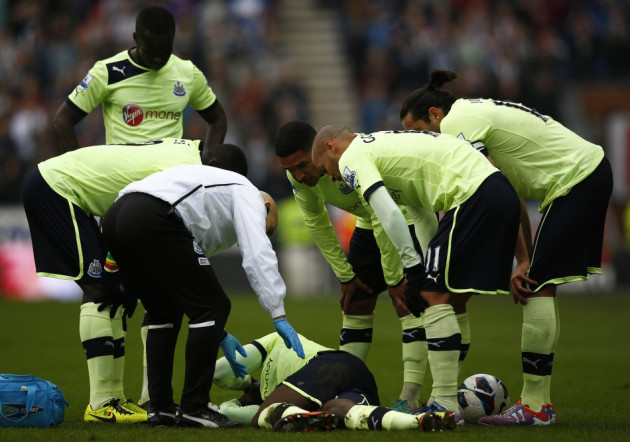 "I was watching the match and the referee was only 15 to 10 yards away, the ball came down between the two players, they both went for it. Our lad got the ball, no question he got the ball, but they collided - the still pictures look like he has gone for the player and gone over it, but he didn't, he got the ball."
Whelan also insisted that the referee was correct to continue play after the tackle, explaining: "The referee was only 10 yards away and didn't even give the foul - it was a fair challenge, you have to see it all - our lad went for the ball, and they collided, it is football. It is tough game but it was an accident."
He also added that in his own experience he knows the difference between accidents and malicious tackled.
"I have got a fair view, when a ball bounces between two players - I had the same at Wembley when the ball bounced between myself and Norman Deeley," he explained.
Whelan, a former professional player with Blackburn Rovers and Crewe Alexandra, himself had his career ended in the 1960 FA Cup final by Norman Deeley - but says players collide, and that is football.
"I got the ball but we collided and I broke my leg - and these accidents do happen. It was an accident when we went for the ball and in football you are allowed to go for the ball.
"We have to have 100 per cent commitment from every player, and I don't care who you're playing - they were fighting for the ball as much as ours - but our lads won't be unfair.
"It was a complete accident and hope the lad from Newcastle recovers quickly."
Wigan defeated Newcastle 2-1 in the match, thanks to a last miunte goal from Arouna Kone.