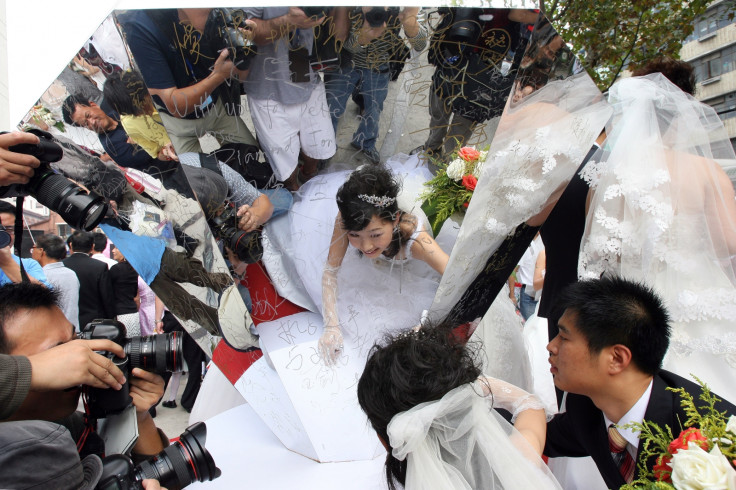 A newlywed Chinese couple have been forced to strip naked and have sex in front of excited guests at their wedding. The couple were coerced into jumping in bed together moments after taking their vow in a video that appeared on Chinese social media sites and on YouTube.
Told to "act passionately" at the wedding party, the pair are seen jumping into bed, before being urged to hand over their underwear to friends. The newlyweds then laugh nervously as they simulate sex underneath the duvet.
The awkward video shows the bride being cheered on by friends shouting: "You climb onto his body now!" as the shy lovers hug. An amorous female guest does her best to reposition the woman's thigh over the top of her husband while another guest asks: "Are you two attached to each other?"
Still unsatisfied, a third guest goes a step further by pressing the bride's bottom against the groom's body through the duvet.
The video also shows the mob attempting to remove the bed sheets off the two lovers, finally succeeding towards the end and exposing bare flesh to the camera.
In China, newlywed couples sometimes play rude or sex-themed games on their wedding night, often involving bananas or other props.
In a similar video, which appeared online in October this year a gang of wedding guests burst in on an unsuspecting bride and groom as they were having sex in a bed. The groom's friends tore off the bed sheets as the bride cried out in shock and tried to cover her husband's modesty.
A post on social media website Weibo, the Chinese equivalent of Twitter, claimed the bride and groom were from Zizhou county of Shaanxi province. One user wrote: "It's so scary. I don't want to get married," while another expressed bemusement: "How could the bridegroom laugh? His wife is being seen naked".