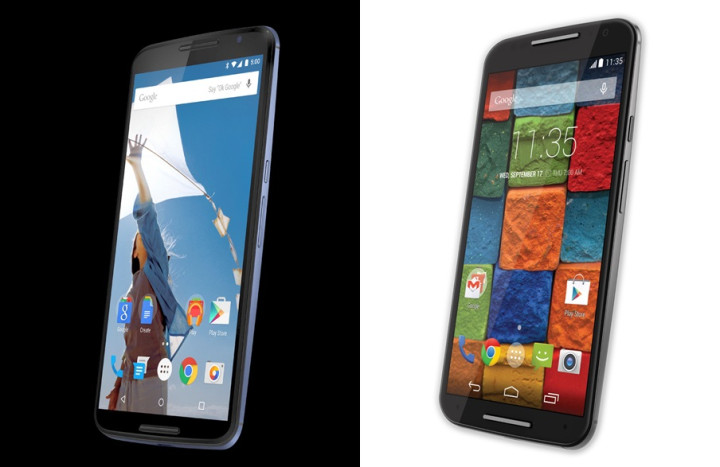 Freshly leaked press rendering of Nexus 6 aka Nexus X is making waves on the internet, as prolific leakster @evleaks has posted a new image of Google's next flagship phone via Twitter.
Quite interestingly, the leaked press rendering of Nexus 6 looks identical to the new Moto X (2014 edition) when the two smartphones are compared side-by-side.
As BGR reports, the Nexus 6 holds a lot in common with the Moto X 2014 such as the same bevelled edges and identical positioning of the power and volume control keys, besides the speaker like dent at the bottom of the screen.
On the contrary, there are also a few noticeable differences between the Nexus 6 and the Moto X such as the sharp bevelled edge of the former in contrast to the curved edge of the latter, as reported by Phone Arena.
As Phone Arena notes, Nexus 6 clearly has a lack of spacing between the edge of the phone and the speaker-like element below the display, unlike the Moto X 2014.
As far as specifications are concerned, Google's upcoming Nexus 6 smartphone (aka Nexus X aka Motorola Shamu) is expected to feature a 5.9in Quad HD screen running at 1440 x 2560 pixels resolution and powered by a Snapdragon 805 processor with 3GB of RAM.
The Nexus phablet will pack a 13-megapixel camera with optical image stabilisation, carry a powerful 3,200mAh battery and run Android L out of the box, according to the latest rumours.
Meanwhile, Google has already teased a few hints about its upcoming event launch comprising several ads with the tagline "Android be together. Not the same" which effectively means the Android maker has something big up its sleeve for the launch.
In other words, we could indeed see the launch of Nexus 6 and Nexus 9 accompanied by the debut release of Android L on the launch day, 15 October.