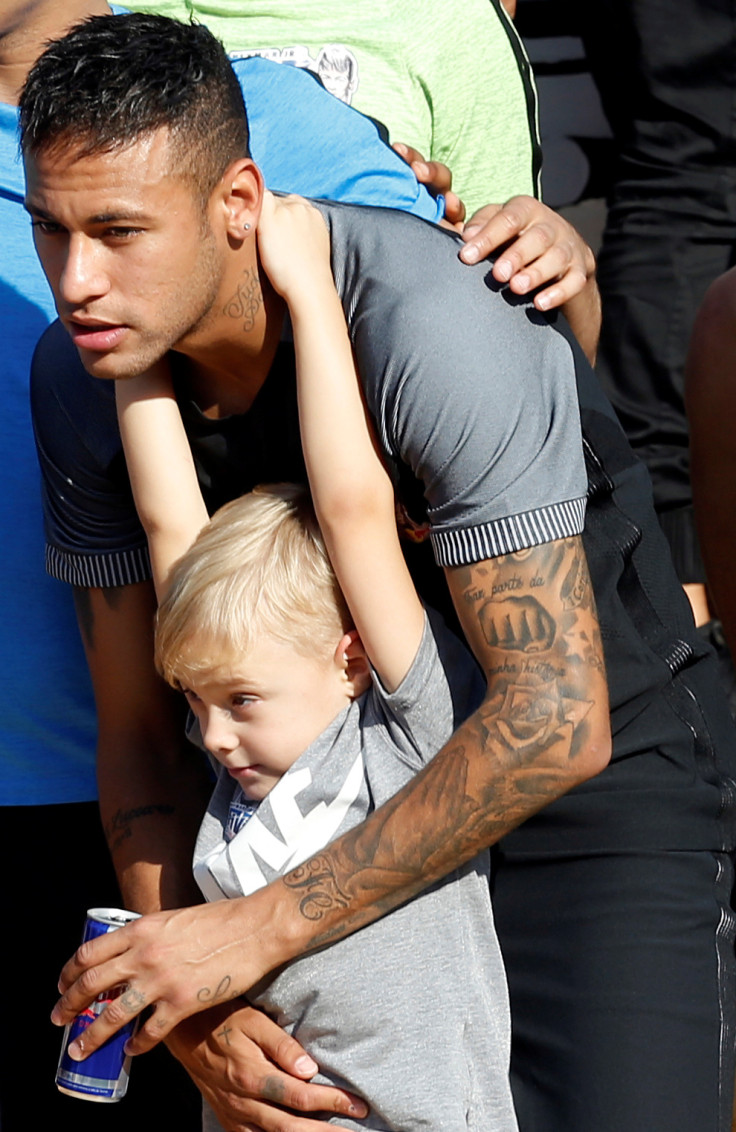 Neymar Jr took to social media to celebrate his son's 5th birthday. The Brazilian footballer has shared a photo of himself with his son David Lucca on Instagram.
The photo shared by the proud father shows the duo in Brazilian football team jersey. The 24-year-old striker can be seen wearing a white headband with the words, "100% Jesus", while holding the gold medal, which he won with the Brazilian national football team by defeating Germany in the penalty shootout (5-4) in the finals at the Rio Olypmic Games. Brazil's first-ever Olypmic gold medal in football was secured when Neymar scored the deciding penalty.
"Congratulations Son ... May God bless you and light your way always. Daddy loves you," he wrote in Portuguese alongside the photo, according to E!News.
Neymar also attended the shark-themed birthday party for his son, which was held in Guaruja (Sao Paulo). The football star has shared a photo of himself with his son and ex-girlfriend Carolina Nogueira Dantas in front of a shark tank.
The former couple share custody of Lucca, which means the little one does a lot of travelling between Brazil and Spain, where his father plays for FC Barcelona.
Meanwhile, Neymar's Barcelona teammate Gerard Pique has said that it was a good decision to let him stay with his family in Brazil until after international games early next month.
"I think it's a good decision to grant him (Neymar) that. He has earned it. I'm sure he is very happy and will come with a lot of enthusiasm to Barcelona," the Barcelona defender told El Mundo Deportivo. (via Reuters)
"It has been a difficult tournament for him. To play at home means you have the pressure to win but Ney (Neymar) is accustomed to that. He has proved why he is one of the best in the world by scoring that penalty in the final," Pique said.