An NFL star has been arrested over the death of a fellow American football player.
New England Patriots' Aaron Hernandez, 23, was hauled away in handcuffs by US police officers from his mansion in Massachusetts.
He was held following the discovery of the body of Odin Lloyd, a semi-professional player for the Boston Bandits. Lloyd's remains were found near the home of Hernandez.
According to local media reports, Lloyd was dating the sister of Hernandez's fiancée and the two sportsmen were friends. They were said to have been together on the evening that Lloyd died.
The New England Patriots, who were finalists in the 2012 Super Bowl, said: "A young man was murdered and we extend our sympathies to the family and friends who mourn his loss. Words cannot express the disappointment we feel knowing that one of our players was arrested as a result of this investigation.
"We realise that law enforcement investigations into this matter are ongoing. We support their efforts and respect the process. At this time, we believe this transaction is simply the right thing to do."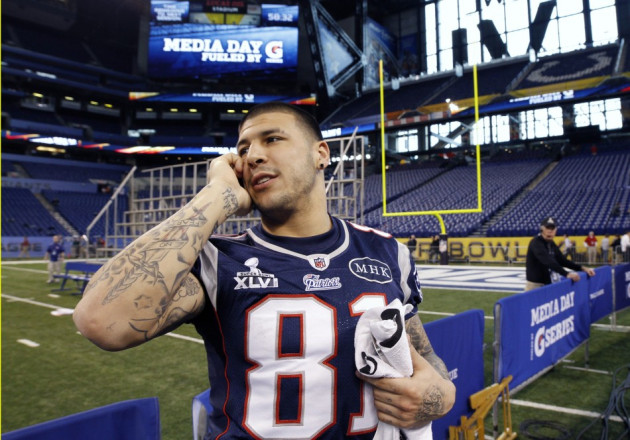 Hernandez has not been charged but his career is already suffering. A muscle-building milkshake firm stripped the NFL star of his endorsement contract.
Lloyd's mother Ursula Ward said. "I would like to thank the person that found my son. I would like to say God put him in the right place at the right time."
Hernandez is also involved in a civil law suit over a claim that he shot a man in the eye after the pair left a strip club in Miami in February.