More than 600 top-level managers of state-funded health bodies are on salaries upwards of £100,000, new figures have revealed.
Patient and nursing groups described the figures as shocking, particularly against the background of the NHS battling the worst funding crisis it has ever experienced.
The figures, reported by the Telegraph, say that out of nine main health bodies, 628 earn £100,000 or more. The highest earner is Public Health England's lead microbiologist for the north-east, Professor Frances Gould, who earns between £235,000 and £240,000.
The paper noted that 93 of the officials get a bigger payslip than Prime Minister Theresa May's £149,440 while simultaneously calling on the government to add more money to the health budget.
Professor Sir Micheal Richards, Chief Inspector of Hospitals, who said on Thursday that the NHS "now stands on a burning platform", earns around £240,000, according to the figures.
Pressure group Patient Concern called the figures incredible and depressing.
"So many nurses are rushed off their feet, so many patients treated in corridors and yet there are hundreds of fatcats being paid eyewatering sums to waste money in meetings and committees," Joyce Robbins of Patient Concern said.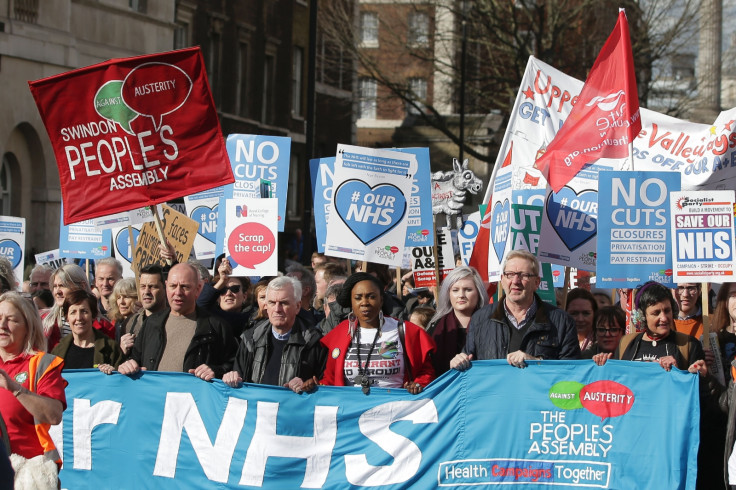 She also criticised the amount of money paid on PR exercises for the NHS. In the last financial year, NHS England spent £3.25m on communications and increased staff numbers to 52 from 36 the previous year.
NHS Improvement, a body responsible for overseeing trusts and NHS-funded care, which was founded in April 2016, employees 79 people on £100,000 or more. The top earner there is chief executive, Jim Mackey, who earns between £215,000 and £220,000.
Organisers of Saturday's protest against cuts to the NHS claimed that 250,000 people attended the march ahead of this week's Budget.
"We must fight to save our NHS from destruction," a spokesman for the march said.
"The threat is real. It is happening now."