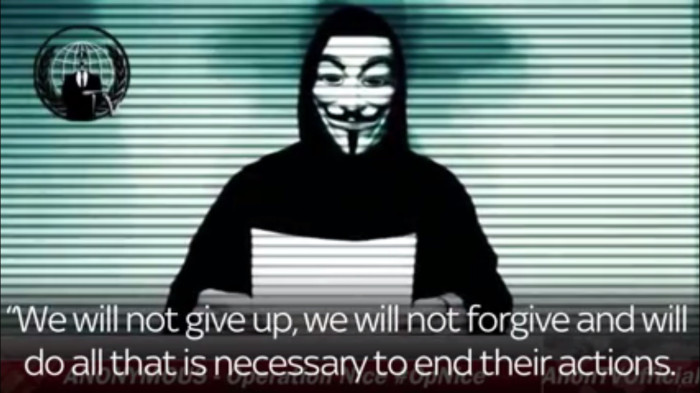 Web "hacktivists" Anonymous have released a chilling video in which the group warns it will take revenge on anyone implicated in the truck attack in Nice on Bastille Day which has left at least 84 people dead and hundreds injured. In the video, produced in such a way it appears distorted, which was posted on social media, a figure wearing the familiar "V for Vendetta" Guy Fawkes mask often associated with the group, mimics the actions of a newsreader.
Although the accompanying voice is heavily disguised and may be synthesised, the accompanying text is rather more straightforward. The group vows "to defend our values and our freedom, we're tracking down members of the terrorist group responsible for these attacks. We will not give up." The announcer continues: "This violence should not weaken us. It has to give us the strength to come together and fight tyranny together. We are Anonymous. Expect us."
This isn't the first time the shadowy group has made such threats against Isis. Similar announcements were made against the islamists following the Paris attacks in November 2015 and Charlie Hebdo in January that year. It is unclear exactly what form of retaliation the group would be able to conduct, though in the past it has mainly consisted of taking down Isis-related links, hacking and sabotaging Jihadist websites and publishing details of individuals thought to be linked to the group.
Anonymous has also published videos denouncing Donald Trump, Scientologists, the KKK, and even the parents of a child who fell into a gorilla cage at Cincinnati Zoo. That video caused an outcry, especially as the group published the address of a school where one parent worked. The group has also posted videos relating to the police shooting of black people in America and other issues of topical social relevance.