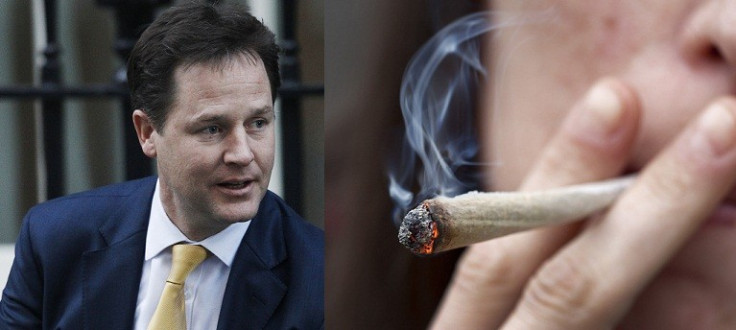 Deputy Prime Minister Nick Clegg has attacked David Cameron over the Government's drug policy, adding that Britain needs reform as it is losing the war on drugs on an "industrial scale".
Clegg condemned the "conspiracy of silence" surrounding the view for full drug reform, just five days after Cameron ruled out setting up a body to examine whether the government should change its approach to drug legislation.
Speaking to the Sun, Clegg said politicians should now have the "courage" to speak out in favour of drug reform, but admitted he himself is not in favour of full legalisation.
He said: "It's time we told the truth, We are losing the war on drugs on an industrial scale.
"In politics, as in life, you can't keep on doing something that doesn't work. You can't keep repeating the same mistakes.
"If you were waging any other war where you have 2,000 fatalities a year, your enemies are making billions in profits, constantly throwing new weapons at you and targeting more young people - you'd have to say you are losing and it's time to do something different.
"I'm anti-drugs - it's for that reason I'm pro-reform."
An all-party committee of MPs has advocated a review of Britain's drug laws, but Cameron rejected the idea, deeming it unnecessary.
The Home Affairs Select Committee suggested ministers should consider legalising cannabis and following Portuguese law, where cocaine and heroin users escape prosecution.
Clegg's comments are a direct challenge to Cameron to set up a Royal Commission on drugs policy.
"I told the Prime Minister that this was a missed opportunity", he said.
"He knows my views on this. He and I don't agree on this."
Clegg appeared to suggest Cameron does not have the courage to tackle Britain's drug problem and also condemned backbenchers for not speaking out about their views of drug laws.
"For too long, people in politics have worried that saying something differently can somehow look like you're being soft," he said.
"It's important now to pluck up the courage to speak out."
However, he told the BBC this view should not be considered as another source of disagreement within the Coalition government.
Clegg said: "I don't see this as me against the Prime Minister. It's about what we as country think is the right thing to do.
"Both the prime minister and I are relaxed about the idea that this isn't an identikit government ... The home secretary and indeed the prime minister are perfectly entitled to say that they want the government's present approach to be given a chance to work and don't want the distraction of a royal commission. My view is that we've been waging the war on drugs for almost 40 years, and I don't think by any stretch of the imagination it has worked."