Nick Clegg offers to take place of 'cowardly' David Cameron for TV debate with Ed Miliband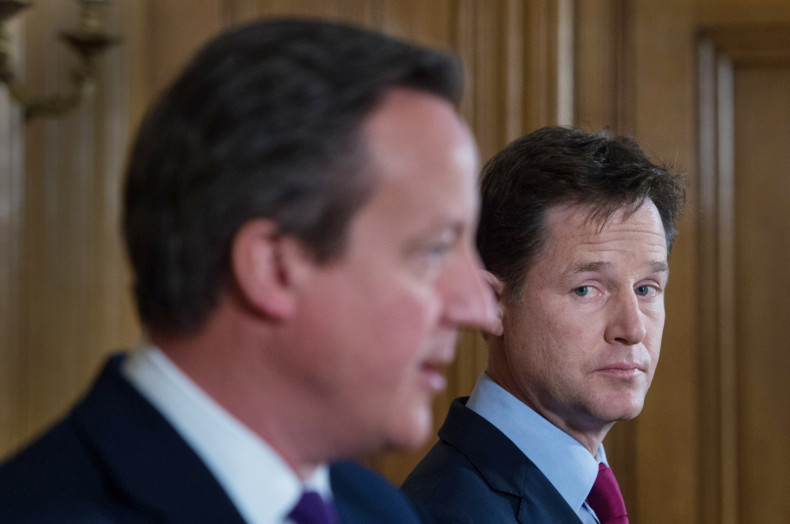 Nick Clegg has offered to take the place of David Cameron if the prime minister stands by his refusal to get involved in a televised debate with Ed Miliband.
The deputy prime minister accused Cameron of "lofty pomposity" after he gave his "final offer" to only take part in one 90-minute debate with all seven main apolitical party leaders.
Cameron has been criticised as being "cowardly" and "running scared" for refusing to take part in a debate with the Labour leader prior to the general election.
Speaking during his weekly LBC Radio phone in show, Clegg has now said he would be "very happy" to step in ahead of Cameron for the planned debate with Miliband on 30 April.
He said: "I can't get over the lofty pomposity of the Conservatives. It's as if they think they are ordering a drink in the drawing room of Downton Abbey, telling everybody else what they should do. It's not for one party to tell everybody else what is going to happen.
"I kind of have this old-fashioned view that the British people want to see how the leaders measure up against each other. It's not for any leader to grandly veto or determine the rules of engagement."
He added: "I am assuming the role, about the only person who is stepping up to the plate to defend the record of this government. If David Cameron's not prepared to do it, I'm very happy to do it."
Elsewhere, Clegg also made a six-pint bet with a Ukip electoral candidate that the Lib Dems will win "many, many" more seats than his "pip squeak" party.
Clegg made the wager with Keith, a Ukip candidate for Finchley, after he phoned in to ask the Lib Dem leader what he plans to do after his party "fades into obscurity" and Ukip becomes the third party following the general election.
A recent YouGov poll for the Sun put Ukip as the third-biggest party with 15%, compared with 7% for the Lib Dems.
Responding to the question, Clegg said: "I will bet you several pints that we will have many, many, many, many, many, many more MPs than your party after 7 May. I can close to guarantee your party is going to be a little pipsqueak party after 7 May compared to Liberal Democrats.
Keith accepted the challenge, saying: "I'm taking the bet - two pints will go to each - if I lose I'm buying [LBC presenter] Nick Ferrari two pints and I'm buying Nick Clegg two pints."