Prime Minister David Cameron has ruled out taking part in a head-to-head television debate with Labour's Ed Miliband before the general election, according to reports.
The Daily Telegraph is claiming Cameron has stipulated that the Conservative leader will only take part in one debate - on or before 30th March, over a month before the general election on 7th May.
In what has been described as a "final offer" to broadcasters, Downing Street says the Prime Minister will take part in one 90-minute debate with at least seven party leaders.
The Telegraph cites a letter from Downing Street communications director Craig Oliver to chair of the broadcasters' leaders' debates committee Sue Inglish, indicating that "the Prime Minister will not be participating in more than one debate".
The letter states: "There should be one 90 minute debate between seven party leaders before the short campaign. As well as the prime minister, the leaders of the Green party, Labour, Liberal Democrats, Plaid Cymru, SNP and Ukip should invited. The leader of the DUP should be allowed to make his case for why he should be involved."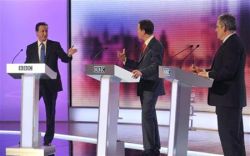 In a statement the broadcasters confirmed receipt of the letter.
"The BBC, ITV, Channel 4 and Sky have received an email from the Prime Minister's office with a proposal," said the statement.
"The broadcasters are committed to providing our audiences with election debates. 22 million people watched the debates in 2010 and we believe the debates helped people to engage with the election.
"The broadcasters have set out their proposals and continue to talk to all the relevant parties on an equitable basis.
"We will respond to the Conservatives' proposal in due course."
If confirmed the news would be a blow to broadcasters, as well as for members of the public hoping to see the leaders of the two main parties slug it out head-to-head.
Earlier Channel 4 and Sky had offered to host a head-to-head debate between Cameron and Miliband on 30th April. Mr Cameron now seems to have ruled that out and in so doing will probably be subject to more accusations of being "frit" (frightened) from Labour.
At PMQs today Ed Miliband had taunted the PM, saying: "The broadcasters have proposed a live head-to-head debate between the prime minister and me on 30 April, a week before polling day. I will be at that debate, will he be at that debate?"
Tonight Mr Cameron appears to have given his answer - and it could be one that delights Mr Miliband.